IACP Quick Take: Why the fight against the opioid crisis can't stop with naloxone
Naloxone saves lives, but it doesn't stop addiction. Here is why pre-arrest diversion programs are important
---
PHILADELPHIA — America is in the midst of an opioid crisis, and police officers are on the front line of the epidemic. Agencies are increasingly outfitting their officers with the overdose reversal drug naloxone, but that's only half the battle. Naloxone saves lives, but it doesn't stop addiction. At the 124th International Association of Chiefs of Police Conference, three panelists outlined the importance of pre-arrest diversion programs.
PARTICIPANTS
Jac Charlier, National Director for Justice Initiatives, Center for Health and Justice at TASC
Eric Guenther, Chief of Police, Mundelein (Ill.) Police Department
John Tharp, Sheriff, Lucas County (Ohio) Sheriff's Office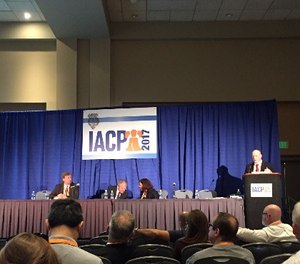 QUICK SUMMARY
Charlier highlighted five pre-arrest diversion frameworks designed to maximize the pathways to treatment for addicts in your community.
3 KEY TAKEAWAYS
1. Build trust.
Panelist John Tharp, who started the DART program in Lucas County, Ohio, noted that it's important to stress to officers that they need to build meaningful relationships with the addicts they're responding to. He tells his officers not to try to make informants out of them in the initial stages of relationship building. Over time, as your police force assists addicts with getting the help they need, this segment of your community not only sees the police in a positive light, but is more willing to assist in investigations. Tharp told the audience the positive feedback he's received about his officers since the start of the program has been "amazing," and the county just recently indicted a slew of major drug dealers with the aid of information that came directly from opioid addicts they had helped. Keep in mind you are building relationships with a section of society that doesn't usually trust law enforcement.
2. Time is of the essence.
Addicts need treatment now, not later. The longer it takes to connect an addict to treatment after an OD or when they're actively seeking help, the more likely it is that they will no longer be receptive to treatment. When the Mundelein PD started their program, they knew it was vital to have a system that never turned a person away. "If we had to say no, we knew it would fail immediately," panelist Eric Guenther said. Speed requires building relationships with your area treatment centers and major hospitals in a tiered system (primary care provider, etc.). On average, Guenther can get an addict in a bed within 90 minutes of contact.
3. Get the word out.
Work with hospitals, defense attorneys, the probation department, and the DA to get referrals. Market your product directly to the people who need it – go out and visit 12 step programs and other places where people suffering from addiction will be.
OTHER OBSERVATIONS
Since starting their program, the Mundelein PD found most overdose victims need inpatient, not outpatient treatment. According to Guenther, many addicts said that they had done outpatient treatment multiple times without success, but their first inpatient treatment kept them on the path to recovery.
Officers need to understand what the timeframe of recovery looks like so they can have realistic expectations with the people they're contacting. Recovery occurs over years, not weeks.
The Mundelein PD's program was a direct result of feedback from street cops. The officers carry naloxone, and many aired their frustrations over responding to the same OD victims repeatedly.
The biggest advocates of the program are the users themselves. The more success you have, the more the word will get out about your program.
It's not just about saving lives. Getting addicts into recovery decreases crime, results in better community-police relations, helps with overcrowding issues in correctional facilities and saves taxpayer money.