Axon's TASER 7 could be a game changer for LE
With the redesign of the popular less lethal tool, Axon has one primary goal – to give cops the confidence to de-escalate dangerous situations
---
By Police1 Staff
One of the biggest announcements at this year's IACP conference was the launch of the TASER 7 from Axon.
With its seventh generation TASER, Axon has one primary goal – to give law enforcement the confidence to de-escalate dangerous situations.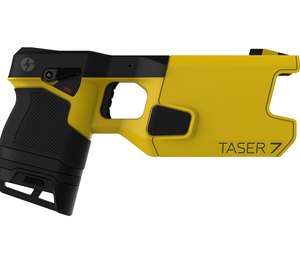 The TASER 7 has been redesigned from the ground up with new features that dramatically improve its effectiveness.
"The TASER is the most used intermediate use of force in the United States and Canada because it is the most effective intermediate use of force," Axon spokesperson Steve Tuttle told Police1. "Yet, we are still not a magic bullet. There were core things we needed to do to improve the effectiveness of a TASER weapon."
Those improvements revolve around confidence, connectivity and the community.
Increasing officer confidence
"Most TASER deployments happen up really up close, so close in fact that we were not getting the optimal spread between the probes. Even though we have the most effective intermediate use of force tool, it does have its limitations when used too close or too far away," said Tuttle.
To address this, Axon has introduced a new cartridge system, which offers a close-range cartridge effective at four feet with a 93 percent increased probe spread at close range and a long-range cartridge effective between 12 to 22 feet.
"This is a sea change in directly attacking some of the things we can do to improve the effectiveness rates of a TASER weapon. This will require a little bit more training, but we offer this wholesale improvement on effectiveness," said Tuttle.
Other design changes also work to increase officer confidence in using the TASER as part of their de-escalation toolkit. 
"We have new rapid arc technology that changes the pulse rate. Normally we have seen 18 pulses per second and we are approaching the 22 pulses per second, so that when we get a good connection, we have improved that waveform to get a better chance of having an incapacitating effect," said Tuttle.
Axon has also completely changed the way the TASER weapon deploys its probes. Previously, a TASER probe would unspool the wire from the cartridge, which causes a yaw effect before the dart stabilizes. Now the wires unspool from inside the probe causing the TASER 7 darts to fly straighter and faster with nearly twice the kinetic energy for better connection to the target.
"We have rigorously attacked what we can do to change the way these devices perform and accelerate their effectiveness. Just as the ad says, 'This is not your father's Buick,' this is not the same TASER weapon anyone has used before," said Tuttle.
Additional features that also work to create a more effective weapon include:
Adaptive cross-connect technology drives electricity between all probe contacts to help compensate for close probe spreads or clothing disconnects;
A green laser sight helps improve your aim during daylight conditions or when the subject is wearing dark clothing;
A brighter and louder warning arc further enhances TASER 7 as a de-escalation tool.
"We are trying to build confidence on the end user side that they have a tool that has dramatically improved effectiveness, that is easier to use, flies straighter, has a better chance of impacting clothes, and has better spread at the right, appropriate distance," said Tuttle.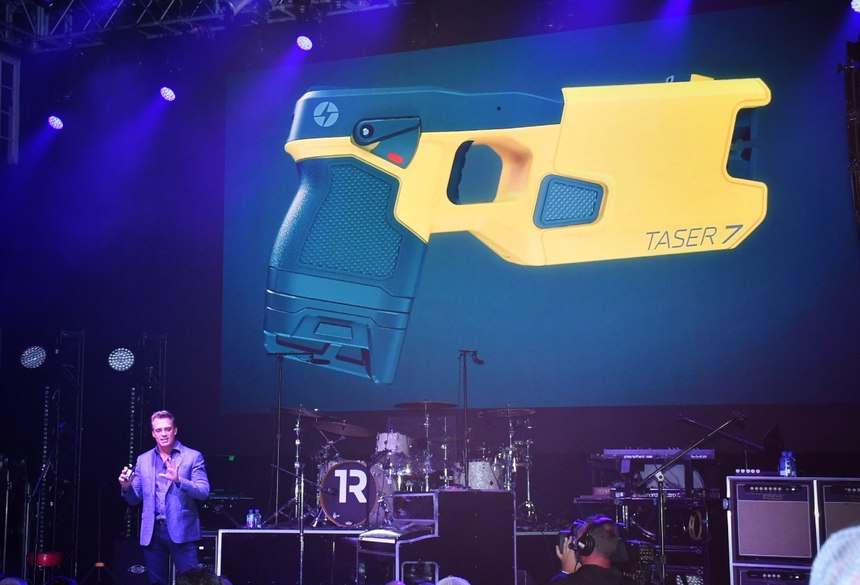 Improving connectivity
The TASER 7 is completely integrated into Axon's Evidence.com, the company's cloud-based system that stores all an agency's data – from body-worn cameras to audio records – while streamlining data management and sharing.
"Axon is about people, devices and application. What this means is that while hardware is an important feature for us, to be really effective it needs to connect to an outside source like Evidence.com. All of our weapons have always had data or trilogy logs, meaning they can keep track of when they have been used, but now that information is being directly uploaded to Evidence.com," said Tuttle.
These connectivity capabilities include wireless device management, self-reporting and general visibility into the health of the weapon, or a full fleet of weapons.
With dock-and-walk-functionality, firmware updates and weapon log downloads occur automatically when officers put the TASER 7's rechargeable battery into a docking station.
Enhancing community trust, officer training
"At Axon, we have always been mindful of what stakeholders think so that is why we have put so much transparency into these weapons such as with the trilogy logs that identify who has used the device," said Tuttle.
Axon is now enhancing this transparency with scenario-based and virtual reality training delivered through Axon Academy, a network of online and in-person training for law enforcement. A 2018 study conducted by Wakefield Research found that more than four in five law enforcement personnel say they want better training to de-escalate situations. Nine in ten respondents agree that improved training on less-lethal tools, such as CEWs, would result in reduced uses-of-force in the field. This shift toward reality-based training aims to better equip officers to de-escalate situations.
The Axon Academy will present:
Immersive learning through online and mobile training to deliver continual learning to officers in small bites versus blocking off an entire day to sit in a classroom;
Hands-on learning with new and improved TASER scenario-based training suits that utilize a hook-and-loop tactical design and a re-design of the TASER simulation probe;
Emerging technologies include the use of virtual reality training to help officers better interact with special populations and understand how and why people might react negatively in certain situations.
"We have changed our recommendation of deploying two cartridges during training to deploying eight. That is the right thing to do. Officers should understand how the TASER works, but we don't want to over train them to use this weapon all the time. We have great deterrents built into it. The laser warning arcs are vastly improved and we are also going to be doing virtual reality empathy training. We have a very powerful tool here, but we want to make sure we are doing the right thing to train officers to de-escalate situations," said Tuttle.
The Fort Worth Police Department (FWPD) and Nevada Highway Patrol (NHP) are the first agencies to equip officers with Axon's new TASER 7 weapon. FWPD placed orders for 1,193 TASER 7 devices and NHP placed orders for 889 TASER 7 devices. The TASER 7 is available for purchase today in the US, Australia and New Zealand and will ship in the fourth quarter of 2018. To learn more about the new TASER 7, visit www.axon.com/taser-7.
Axon Body 3
Axon also announced its first connected body camera, Axon Body 3 with LTE from both AT&T FirstNet and Verizon.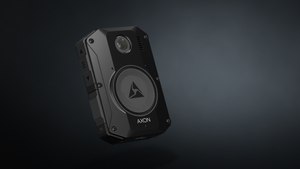 The Axon Body 3 will allow officers to utilize the real-time power of FirstNet and Verizon's dedicated wireless networks to preview and upload critical evidence wirelessly without waiting to dock. Axon Body 3 features gunshot detection, with automatic alerts to command staff and live streaming from the field to help improve officer safety.
Axon is offering Axon Records, its records management system (RMS), free for five years to any agency that purchases the TASER 7 bundled with the Axon Body 3 on the Officer Safety Plan through 2019.
Axon will begin testing the camera with select partner agencies in early 2019. To learn more about Axon Body 3, visit www.axon.com/AxonBody-3.