Betrayal: How I reconcile the Joe Gliniewicz I knew with the one I didn't
People felt they knew Joe well, but of course they didn't know the Joe that we are hearing about now
---
This PoliceOne First Person essay is from Lisa Benitez, who has been a police officer since 2002 and in law enforcement since 2000. Benitez worked 14 years with the City of Waupaca (Wis.) and currently works for the City of Manawa. She is also an adjunct professor at Mid-State Technical College in Wisconsin Rapids. Her thoughts below are hers and she is not presenting them on behalf of any department.
By Lisa Benitez
Police1 Special Contributor
I went to high school with Joe Gliniewicz. He was a friendly, kind person who sat by me in a couple of classes and we always talked. He was funny. Navigating high school was difficult and he was one of the people I enjoyed. Even though we did not keep in touch after graduation, I looked him up on Facebook and heard good things about him. I related to him because I am also a cop.
When Joe died, the good things he had done and his kind personality were splashed all over the air waves. I thought it was wonderful that he had stayed true to himself. Navigating life as a law enforcement officer is difficult, yet it seemed Joe enjoyed his life and – after 30 years on the beat – was well-liked as an officer.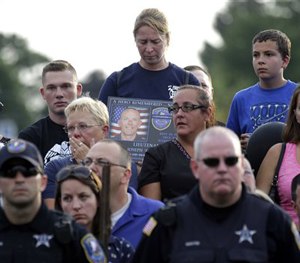 Now, after his death, we are learning some of what we didn't know about Joe.  That newfound knowledge has been a blow to the heart from which many are still reeling. The findings of the investigation into his death and the last few years of his life while in command of local Police Explorers have garnered many responses. Denial: the investigators are liars and are covering up for something they cannot solve. Revenge: get back every dollar given to Joe's family after his death. Crucifixion: he was rotten — his illegal activities negate every good deed. Erase his memory.
Each of these responses is normal.
And then there are the apologies. We are an apology-happy society. Reporters wanted the investigators to apologize for having folks stay in their homes during the manhunt for Joe's "killers." Why? The investigators were operating with the information they had at the time and they did the right thing. People want establishments to apologize for raising money and giving it to Joe's wife and sons. Why? Those groups were operating with the information they had at the time and they did the right thing. The same goes for individuals who gave money.
A radio host who still calls Joe a friend said it very well, "Those who loved him will miss him every day. Those who were harmed by his actions will need to heal."
People felt they knew Joe well, but of course they didn't know the Joe that we are hearing about now. Joe is dead and we cannot ask him about this other person we are being introduced to. We are mourning the Joe we knew and don't know what to do with this new guy.
So we are stuck. We want to ask the Joe we are now hearing about, "Are you real? Who the hell are you and where did you come from? Why? What the f*ck?"
We just can't relate to this new guy.
The radio host said Joe was a friend and did a lot of good for many people. That is true. Joe was a friend to many, many people. He did a lot of good things. What he did wrong does not negate what he did right. If you are over the age of 30, you are likely deeply familiar with the stages of grief. We will be all over that wheel, in different stages at different times.
The key is to let those stages flow. Try not to get stuck thinking about the Joe we never knew. People loved the Joe they knew. They still love him. They don't have to stop loving him.
Betrayal by someone we look up to is painful. Betrayal by someone we trust is undoing. Betrayal by someone we love is devastating. Joe betrayed us. But remember, we were all operating with the information we had at the time. Be good to yourself. Let things flow.