Chicago police seeking suspect who shot 7-year-old trick-or-treater
Officials say the shooter fired 'at least seven times' at a rival gang member, struck child twice
---
Rosemary Sobol and Morgan Greene
Chicago Tribune
CHICAGO — The 7-year-old girl was walking with her father down a street in Little Village crowded with other young trick-or-treaters while it was still light outside Thursday. She looked like Minnie Mouse.
From an alley across the street, a gunman wearing a face mask yelled a gang slogan and fired at least seven times, hitting the girl on the right side of neck and her upper chest, according to Chicago police. The gunman's target, a Latin King who was walking among the children, was hit in the hand.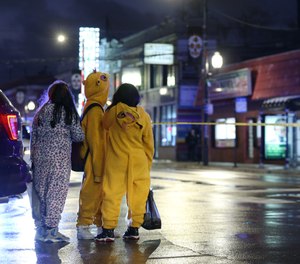 "We heard the shots … and I went outside," said Lali Lara, 25, who works in a cell phone store in the 3700 block of West 26th Street. "The girl's father was screaming, 'My little girl's been shot!' "
Lara said she rushed the girl, who was wearing a red and black costume, and her family inside the store. "Everybody was in shock," she said.
Lara said she held the girl's hand while pressing against her chest to stop the bleeding.
"I was pressing on her and calling her name so she won't close her eyes," Lara said. "She was looking at me, and I was calling her name. She was holding my hand for three minutes and then she let me go. I have kids — I would go crazy if something happened to my kids."
After about five minutes, an ambulance arrived. The girl was taken to Stroger Hospital, where police said she was in critical but stable condition. Friends and family, some in tears, waited outside the hospital into the night.
The gunman and two people with him fled down the alley where security cameras may have picked them up, police said. Their target, a 32-year-man with a record of drug and assault arrests, refused to cooperate with police, officials said.
Chicago police Superintendent Eddie Johnson said investigators have identified a person of interest who may have been the gunman, based on camera footage and tips from the community, which he called "overwhelming." The gunman was wearing a "Jason" Halloween mask, he said.
"The shooting yesterday was reprehensible," Johnson said at a morning news conference, adding that those responsible "do not deserve to live in our city."
He described the girl as "clinging to life," but said her condition has been stabilized.
The shooting happened around 5:30 p.m. on a busy stretch of businesses. Police say the target of the shooting was walking near the girl when the gunman stepped from an alley across the street, yelled an insult to the Latin Kings and began shooting.
Responding officers found the girl and her father inside the cell phone store. The wounded man was found on the next block but "was uncooperative," police said.
No arrests had been reported as of Friday morning.
McClatchy-Tribune News Service