Defense attorney fatally shot outside office in Ky.
On Friday, man waited for lawyer to arrive at his office and shot him at least four times, killing him in front of several witnesses and at least one police officer
---
By Adam Beam
Associated Press
SOMERSET, Ky. — Clinton Inabnitt was a regular at the convenience store in the center of this small town, known for complaining that the police were conspiring against him and telling nonsensical stories while he fixed his breakfast. For months, he'd been talking to Somerset's top defense attorney, describing his problems and asking for help.
On Friday, Inabnitt waited for Mark Stanziano to arrive at the downtown law office he shared with his wife, and without a word, he shot him at least four times, killing the attorney in front of several witnesses and at least one law enforcement officer, according to police and witness accounts.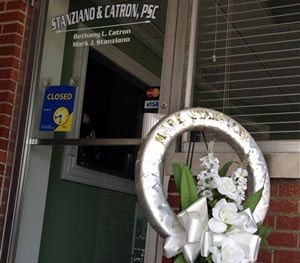 "I said, 'Why did you do this?" said Keri Purkerson, a cashier at Fast Chek who called 911 shortly after the shooting. "He didn't say anything."
Stanziano and Inabnitt were both her customers, Purkerson said. On Friday morning, she said she heard the gunshots — something she'd never experienced in this town off the banks of Lake Cumberland — and ran outside to find Stanziano in a pool of blood, with Inabnitt standing over him holding a gun.
Police say Pulaski County Sheriff's Detective John Hutchinson witnessed the shooting, and he ran over from the courthouse across the street to arrest Inabnitt, 40. He is charged with murder.
Darrell Goff was mowing the lawn outside the courthouse, and he said he didn't hear any argument between Stanziano and Inabnitt.
"When he got done shooting, he just walked over there and laid the gun on the sidewalk and laid down on his belly," Goff said.
Inabnitt's apartment is across the street from Stanziano's office, and police said the two were well acquainted. Fast Chek clerks said Stanziano sometimes paid for Inabnitt at the store when he'd come in for his own Diet Pepsi and breakfast bar.
But Somerset Police Capt. Shannon Smith said that the pair's talks and relationship were "one-sided" and that Inabnitt hadn't taken Stanziano's help or advice.
Smith said that after his arrest, Inabnitt described a conversation the two had Thursday night: He told Stanziano that people had advised him to kill the lawyer to make his problems go away.
Stanziano, 57, was known for taking high-profile cases. Before he died, he was representing Kenneth Allen Keith, a pastor charged with the murder of three people last year. He also represented a man charged with killing a former sheriff in a plot at a political rally in 2002.
The news of his death rocked the town of 11,000 people, where until Friday the big news was a music festival next month featuring the Counting Crows.
"It makes you just stop and think about people that you represent and situations that you find yourself in sometimes," Jeff Hoover, a defense attorney in nearby Jamestown and the Kentucky House minority floor leader, said. "Mark did a lot of very high-profile, high-publicity criminal defense cases. Anytime you do criminal defense cases sometimes you are concerned about things like that."
Copyright 2014 The Associated Press