Frank Falzon on the path to catching the Night Stalker
The legendary homicide inspector discusses the two words that broke the Night Stalker case, the first time Ramirez claims to have killed in San Francisco, and advice for new investigators
---
Download this week's episode on Apple Podcasts, Amazon Music, Stitcher, Spotify or via RSS feed, and watch the video version on Police1's YouTube channel.
In this episode of the Policing Matters podcast, sponsored by Staccato, host Jim Dudley speaks with a legendary detective whose investigations may read like a crime novel, but his story is 100% non-fiction.
Retired San Franciso Police Department Homicide Inspector Frank Falzon was active in solving some of the most heinous homicides of the 1970s and 1980s, including the Night Stalker case, the "Zebra" murder spree, and the double murder of San Francisco Mayor George Moscone and San Francisco Supervisor Harvey Milk were shot and killed in San Francisco City Hall. Falzon was a principal figure in the hit 2021 Netflix series, "Night Stalker: The Hunt for a Serial Killer," and has been featured internationally in numerous documentaries, broadcast interviews, articles and books. 
About our sponsor
This episode of the Policing Matters Podcast is brought to you by Staccato. Choose the handgun trusted by over 900 law enforcement agencies across the country. With Staccato, you can feel confident knowing you aren't sacrificing incredible accuracy for reliability. Whether you're protecting your family at home or on duty, Staccato has your back. Military and law enforcement receive discount pricing through the Staccato Heroes Program. Visit www.Staccato2011/heroes-program.com to learn more.
TOP QUOTES FROM THIS EPISODE
He says, 'Is that as hard as you can hit?' And I say, 'Oh no, Armando, that is not as hard as I can hit. I am gonna split you from the top of your head down to the crack of your behind.' Then he threw his hands up in the shape of a cross and he said 'Richard Ramirez, Richard Ramirez.' Those two words broke our case and all 15 cases in Los Angeles."  
I am very open about it. I knew what I was doing. I had handled over 300 murder cases in my police career and thousands of police interrogations. I had never in my life used my hands, but once this individual challenged me, I threw the badge out of the window. I didn't care if I lost my job. All I knew was I couldn't handle seeing another couple murdered."  
Your crime scene tells you a story. Now that you have the story, you have to look at every piece of evidence that you have."
Resources mentioned in this episode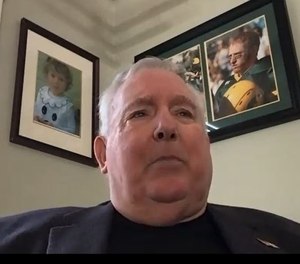 About our guest
Frank Falzon is a highly decorated and accomplished police inspector who investigated more than 300 murders and other cases during his 28-year career with the San Francisco Police Department, 22 of them in the homicide detail.
He played a key role in breaking the notorious Night Stalker case, investigated his childhood friend and former fellow cop for the murders of San Francisco Mayor George Moscone and Supervisor Harvey Milk, and participated in the Zodiac, Zebra and Juan Corona serial murder investigations.
He was a recipient of the San Francisco Police Department's highest honor, the Gold Medal of Valor. He also earned a Gold Medal Medallion as the city's Bravest Police Officer and numerous commendations and was the department's 1978 Police Officer of the Year.
In addition to his role on the Netflix "Night Stalker" limited series, Falzon has appeared in "The Most Dangerous Animal of All" mini-series, Court TV's "I, Detective" series, and some two dozen documentaries on the City Hall murders.
Connect with Frank Falzon
RATE AND REVIEW THE POLICING MATTERS PODCAST
Enjoying the show? Please take a moment to rate and review us on Apple Podcasts. Contact the Policing Matters team at policingmatters@police1.com to share ideas, suggestions and feedback.