How police investigators can conduct effective trauma victim interviews
FETI training focuses on enhancing the quality and quantity of information obtained from victims who have undergone highly stressful or traumatic experiences
---
By Leischen Stelter, editor of In Public Safety
Investigating a case of sexual assault requires specific interview techniques, but many officers never receive such training.
"For almost the first decade of my law enforcement career, I didn't receive training in trauma or how anxiety and stress affects memory. In short, I was never taught how to interview victims," said Lori Heitman, a former Supervisory Special Agent with The United States Army Criminal Investigation Command. "Law enforcement are traditionally trained to interview suspects, so when they interview victims, through no malice, they typically apply the same techniques because that's what they know."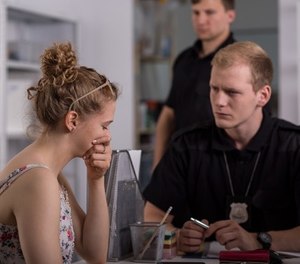 Heitman is currently the director of programming at Certified FETI, which teaches officers a science-based methodology for conducting effective victim interviews. FETI, which stands for Forensic Experiential Trauma Interview, focuses on enhancing the quality and quantity of information obtained from victims who have undergone highly stressful or traumatic experiences.
What's Different About FETI?
FETI teaches officers the neurobiology and science involved in trauma memory and how to apply that knowledge during an interview. When a person experiences a major trauma like sexual assault, their brain records it differently than a non-traumatic event. The prefrontal cortex, which is responsible for complex behaviors, often shuts down during trauma, leaving less advanced portions of the brain to record the event.
While traditional police interview techniques are geared towards getting information from the prefrontal cortex, FETI teaches officers a methodology that targets the more primitive areas of the brain. "Using FETI really gets you better, more accurate information in a manner that is consistent with the way the brain naturally encodes and processes the experience," said Heitman.
During Certified FETI training, officers are shown the benefits to their investigation when a victim is in control of the pace and direction of the interview. Relenting control of the interview process is often one of the greatest challenges for officers.
"That's one of the biggest differences between Certified FETI and traditional interview techniques: Officers are not in control; the person being interviewed is in control," said Carrie Hull, former detective and current director of certification for Certified FETI. "Officers must really listen to the person and facilitate that person's recollection of the experience, but not lead them in any direction."
"If officers go into the interview with a preconceived idea of what happened, they're going to try to direct the interview towards confirming what he or she already thinks they know about the incident," added Heitman.
That's why Certified FETI instructs officers to approach all interviews with victims, witnesses, and suspects as opportunities to simply hear what the person is able to share about their experience, rather than to determine a conclusion. The decision on culpability or credibility should be left until after the investigator has conducted additional interviews and gathered all they can about the reported incident.
Components of the Certified FETI Methodology
Learning how to apply FETI is a multi-faceted process. Once officers learn what happens in the brain during a traumatic experience, they are taught to enhance their interviewing techniques in several ways.
Use Brain-Based Cues
An important element of FETI is to first connect with genuine empathy, followed by asking simple, open-ended, and non-leading questions or brain-based cues. For example, applying the Certified FETI methodology, an officer might ask: "What are you able to tell me about your experience?" This allows the interviewee to decide where to begin and what they are able to share about their experience at that moment. Applying this strategy helps reduce anxiety and allows the interviewee to recall elements of their experience that were central to them.
"Traditionally during the interview, officers tend to interrupt, fire off questions, focus on peripheral details, or not allow the interviewee time to process through their experience. These are fatal mistakes as they disrupt their ability to recall information, create inconsistencies, cause confabulation, and may inadvertently edit memory – all of which results in frustration for the officer and the interviewee," explained Heitman. 
As part of FETI training, officers are trained to simplify questions such as:
Help me understand your thoughts when…
What are you able to remember about (sight/smell/sound/taste/touch/body sensation)?
What was the most difficult part of this for you?
What, if anything, can't you forget?
How has this experience impacted you?
"These questions are meant to cue or prompt for information. It's very important for officers to not view the methodology as a checklist and instead focus on the information being provided by the interviewee and then use the methodology as appropriate," said Hull.
Learning to be an Empathetic Listener
Another critical part of FETI is establishing a connection with the victim based on genuine empathy. Officers are taught to be empathetic listeners, which is essential for ensuring victims feel safe so they are able to provide a clearer picture of what happened. During the training, many officers have an epiphany that they're not very good listeners.
"Many point to how difficult it is to just sit back and really listen," said Heitman. "But when officers learn how to pause, not to jump in, and give someone space, the other person will often continue talking and more often than not, give officers more than they would've thought to ask," she said.
To build their capacity for empathy and to assist with a better understanding of the methodology, attendees at the Practical Application of FETI course are not able to graduate until they participate in a personal interview session where they are interviewed by an Advanced Certified FETI practitioner. During this private and confidential one-hour session, officers share a traumatic or stressful experience of their choice so they can better understand how it feels to be a victim going through the reporting process.
"We have to be tased before we can carry TASERs, we have to have pressure-point control tactics applied to us, so we know how it feels – in so many areas of training we have to experience what we're going to be doing or applying to someone else. The same applies to this training," said Heitman. "Officers need to know what it feels like to be uncomfortable and vulnerable about an experience that is personal to them, and then subsequently to be responded to with genuine empathy, to be heard, and to be given space to process through what they are willing and able to share about their experience."
Certified FETI offers a variety of instructional courses on the methodology ranging from several hours to multiple days. Some agencies choose to embed Certified FETI consultants within their department from a week to a month so they can work closely with their Special Victims Unit or other teams to refine their interviewing techniques.
Heitman and Hull, along with other Certified FETI faculty including FETI founder Russell Strand, instruct at agencies around the country and internationally. When In Public Safety caught up with them, they had just completed two weeks of training with the NYPD. While instructors sometimes encounter resistance from officers who are skeptical of FETI, by the end of the training officers often realize the value of the methodology and its application to scenarios beyond sexual assault.
"Many have said they wish they had gotten this training at the beginning of their career," said Hull. "I often think about how much better I would have been as an investigator if I had this information when I started in law enforcement."
---
About the Author: Leischen Stelter is the editor of In Public Safety, an American Military University sponsored website. She has spent six years writing articles on issues and trends relevant to professionals in law enforcement, fire services, emergency management and national security. To contact her, email IPSauthors@apus.edu. For more articles featuring insight from industry experts, subscribe to In Public Safety's bi-monthly newsletter.