In a first, OCSD returns earrings, pendant of capital murder victim to her still-grieving brother
During her tragically short life, Ginger Fleischli enjoyed a close and loving relationship with her sibling, Jack, 11 years her senior
---
This article is reprinted with permission from Behind the Badge. 
By Greg Hardesty
She always called him "Brother."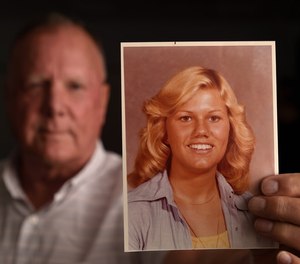 During her tragically short life, Ginger Fleischli enjoyed a close and loving relationship with her sibling, Jack, 11 years her senior.
He was her confidant, her mentor – someone she always turned to for advice, for fun.
Even for her first driving lesson in his VW Beetle.
"I don't know how much closer you can be with a sister than I was with Ginger," Jack Fleischli says.
So when Ginger, at age 20, was murdered by two men, Thomas Thompson and David Leitch, on Sept. 11, 1981, Jack's world went black.
"When you have a sibling's love in your heart and they are taken from you, not only does the sibling experience the loss of his or her life, but also you are injured in a way that is almost indescribable," says Jack, now 69.
"Your life has forever changed, and a big part of your happiness is taken away."
On Tuesday, Sept. 24, 2019, Jack got back a little bit of Ginger.
In what Orange County Sheriff's Department officials believe is a first of the history of the O.C. criminal justice system, the agency returned to Jack two earrings and a star pin that had been on Ginger's person when her brutalized body was found on Sept. 14, 1981, in a grove of trees near Interstate 5 in Irvine.
It's the first time the OCSD has ever returned personal items of a victim in a capital murder case, says Sheriff's Special Officer (SSO) James R. Nally, who has spent 22 years in the Property/Evidence Detail of the OCSD. The OCSD Homicide Unit investigated the murder and authorized the release of Ginger's items at Nally's request.
But it happened Tuesday, Sept. 24, and is expected to happen in more O.C. capital murder cases, Nally says, thanks to a provision in Marsy's Law, the California Victims' Bill of Rights Act enacted by voters in the November 2008 general election.
The provision gives victim's families the right to the immediate return of personal property. But in capital murder cases, that has not been the case – until now.
Earlier this year, at the behest of Judge Gregg L. Prickett and Deputy District Attorney Avery Harrison, a hearing was held at the Central Justice Center in Santa Ana regarding exhibits used in the Fleischli case – one of 10 capital murder cases statewide in which the killer or killer has died, and in which upcoming hearings will address what to do with court exhibits that long have gathered dust.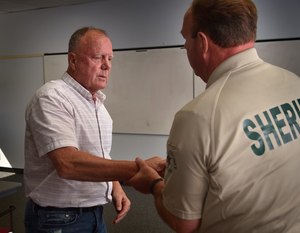 The Fleischli case is the first of four O.C. cases — another is the notorious case of serial killer William Bonin – to be subject to such a hearing,
Nally and Jack Fleischli were among the many parties who received a notice about the hearing, which specifically was limited to courtroom exhibits in the Fleischli case. The point was to have Ginger's relatives be heard before the court decided whether to dispose of, release, or keep the exhibits.
Jack Fleischli delivered emotional remarks at the May 17 hearing.
"It was tough," he says, "but I made the point that I didn't want the court to destroy anything. And the judge agreed."
Although Thompson has been executed, Leitch is still alive, serving a 15-to-life sentence.
Nally took the legal proceedings a step further. He was able to get a homicide investigator to sign off on the property for him to return to Ginger's brother – her designated next of kin — the personal items Ginger was wearing when she was killed.
"My property instinct kicked in right away," Nally said. "We don't ever destroy homicide evidence. It sits with us forever. Up until (Tuesday), we had never released anything that's homicide related."
But it happened in a conference room in the Brad Gates Building in Santa Ana where the OCSD's Evidence/Evidence Detail is housed.
Nally and his boss, Sgt. Paul Schaff, handed Jack a small manila envelope.
It had been sealed Sept. 17, 1981.
Jack thanked them, and said he wanted to open it in private at his home in Long Beach.
"I don't want this to be a spectacle," Jack explained.
Jack said it was "brilliant" that the OCSD is shifting from either holding evidence indefinitely or destroying it to reuniting personal items to victims' families.
"In our line of work," Nally said, "you always see the negative, and to be able to take advantage of this, and do something productive for a victim's family — it was worth all the additional things we had to do to make this work."
Added Schaff: "Hopefully, this will help give Jack some closure."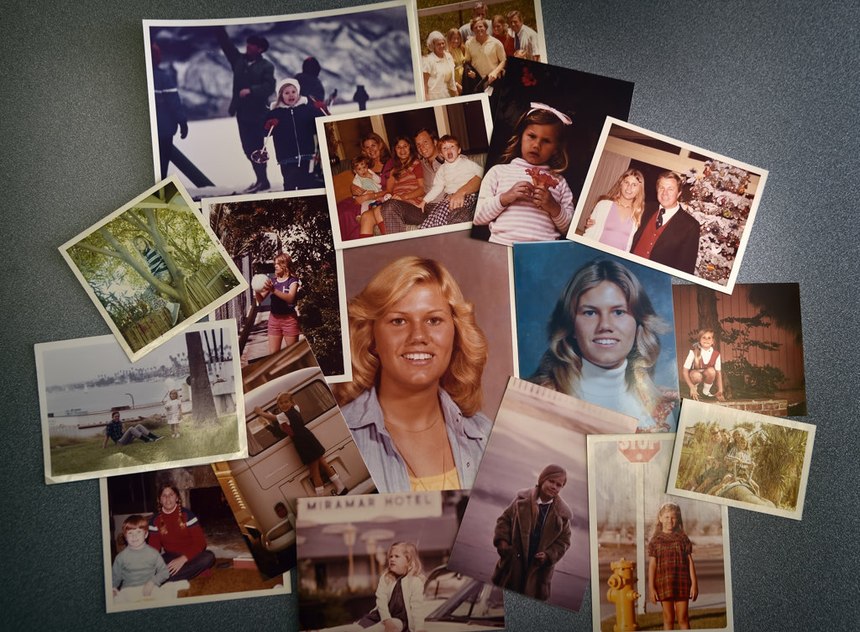 As Jack talked about Ginger and showed the deputies pictures from her childhood through around age 17, the pain was apparent in his eyes and in his voice.
"She was a big part of my life," Jack said. "When I was 11, she was an infant, so I literally was able to see her grow up until I went away to college."
While at UC Santa Barbara, Jack lifeguarded in Huntington Beach during the summers and so he was able to spend a lot of time with Ginger.
Three weeks before her death, she and Jack had a picnic in a park in Mission Viejo.
That was the last time Jack saw her.
"She was telling me about the fact that she'd been accepted to a beauty college," Jack says. "She was excited about it. She was working at a dress shop on Balboa Island."
Jack described Ginger as "sincere and fun, and smart."
At one point, at Ginger's request, Jack represented Leitch as his attorney in a misdemeanor traffic case. Jack said he had a bad vibe about him, especially when Jack found out Leitch had a record of violent crime. He warned Ginger to stay away from him.
"Ginger cared about people, and maybe that was her downfall," Jack says. "She believed she could make Leitch into a better person, but she was wrong."
HORRIBLE DEATH
In separate trials, Thompson and Leitch were convicted of murdering Ginger.
Thompson, who lived in the apartment where Ginger was killed, was executed on July 14, 1998. His roommate, Leitch, his accessory to the murder, remains behind bars.
The details of Ginger's last moments were too much for the Fleischli family to bear, and at the advice of prosecutor Mike Jacobs, Jack and Ginger's other relatives — who included her mother, father, another sibling, and two step-siblings — avoided the murder trial.
The evidence was too gruesome.
Ginger had been sexually assaulted and then killed in Thompson's apartment in Laguna Beach following a night of bar hopping. She recently had broken off a relationship with Leitch, and had moved out of his apartment under police escort at her request.
Ginger had been stabbed five times in the head near her right ear. One of the stab wounds, inflicted with a single-edged knife, extended through the ear two and one-half inches, penetrating the carotid artery and causing her death.
Her body had been wrapped in an old sleeping bag and pink blanket.
Ginger's head had been wrapped with silver duct tape, two towels, a sheet, and her jacket. Her shirt and bra had been cut in front and pulled down to her elbows Her Levis were fully zipped but not buttoned.
She wore no underwear, shoes or socks.
Jack Fleischli was at attorney and living in Yorba Linda at the time of his sister's death. He had left his job as a deputy public defender in Orange County. After his sister was murdered, Jack shifted his law practice into construction, real estate, and business litigation.
Jack later took up acting and writing and performing music, both under the name Jack Forbes.
Just this June 16, Leitch was granted parole. Gov. Gavin Newsom must decide his fate.
Jack, of course, vehemently opposes his release.
Jack has sent the governor three letters, including one quoting extensively from a decision by Gov. Pete Wilson in which the former governor denied clemency to Thompson, and in which the ex-governor pointed out that Leich has given at least four conflicting stories about his involvement in the murder — two of which were given under oath in his parole hearings, 
According to police reports, Thompson told jail informants that he had been hired by Leich to kill Ginger.
"It's common for people who are not victims or family and friends of victims to forget there is a real person with a real past and a valuable life which has been targeted by a heartless criminal," Jack said.
"I, on the other hand, have a real and enduring connection with Ginger and would never forget her and the joy of her presence. She must have known as these crimes were happening to her that I would always be there for her and would do everything in my power within the system of justice to make the perpetrators accountable.
However, Jack says: "Even now, 38 years later, I never know when the tears will flow from thinking about the life that was ripped away from Ginger when she was only 20 years old. It is a lifelong battle that no one wants to experience."
Jack has a jewelry box for Ginger's personal items. He keeps it in view in his living room.
"Ginger was a one-of-a-kind, wonderful person and is an ongoing inspiration for me," Jack says. "The greatest loss, however, was not to me or to my mother or father or sisters or brother, but to Ginger herself.
"She lost everything when she had everything to live for."