NY block party shootout suspect in custody
Kyle Williams is being held on murder, attempted murder and endangerment charges
---
Rocco Parascandola and John Annese
New York Daily News
BROOKLYN, NY — A suspect is in custody in connection with a Brooklyn block party shooting that left one man dead and 11 other people wounded, police sources said.
Police took Kyle Williams, 20, into custody Wednesday for the July 28 shooting during the annual "Old Timers' Day" block party in Brownsville. He lives less then a half-mile away from the Brownsville Playground on Hegeman and Christopher Aves., where the shooting took place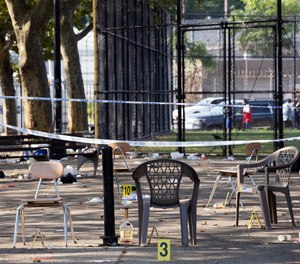 The barrage left 38-year-old Jason Pagan dead and 11 others — the oldest 55, the youngest 21 — hospitalized with gunshot wounds.
Williams is charged with murder, attempted murder, gun possession and reckless endangerment, sources said.
Police suspect the gunman got into a firefight with Pagan, a Bloods member who survived a previous shooting and was out on parole for a gun possession charge.
The party is a long-standing Brownsville tradition, and typically draws thousands of revelers over two days of celebration.
The police offered a $20,000 reward for info on the shooter, and earlier this month, released photos of two women wanted for questioning.
McClatchy-Tribune News Service