Plot to torture, kill cops foiled by Vegas police
Two people planned to torture at least one officer to promote their "Sovereign Citizen" cause
---
By Ken Ritter
Associated Press
LAS VEGAS — A four-month undercover operation foiled a plot by two people to abduct, torture and kill at least one police officer to gain attention for their "Sovereign Citizen" cause, police said Thursday.
The arrests of David Allen Brutsche, 42, and Devon Campbell Newman, 67, scuttled a carefully planned operation to kidnap, put on trial and execute a police officer, according to a 10-page police arrest report.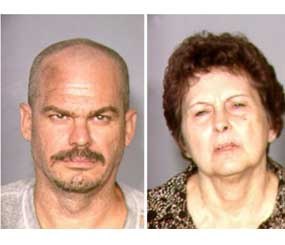 The report detailed weeks of meetings, training sessions and plans that included using video cameras to follow police, identifying an officer to abduct, finding a vacant house and rigging it to serve as a "jail" in which the officer would be bound to cross beams in a room for torture.
Every one of the 30 meetings, including hundreds of hours of conversation, was documented and recorded, police said.
"We need to arrest the police and take them to our jail and put them in a cell and put them on trial in a people's court," the report quotes Brutsche saying during a July 9 meeting with an unidentified undercover officer. "If we run into the position that they resist, then we need to kill them."
The report alleges the two recorded and planned to post videos about Sovereign Citizen ideology and their actions following the abduction.
FBI officials in Las Vegas say the federal agency wasn't involved in the Las Vegas investigation. The FBI generally considers Sovereign Citizen extremists to be domestic terrorists.
Police identified Brutsche as a six-time convicted felon and child sex offender from California. Records showed he was being held at the Clark County jail in Las Vegas on multiple charges ranging from failure to register as a sex offender to conspiracy to commit kidnapping and murder.
Newman was being held at the jail pending a court appearance on conspiracy to commit murder and kidnapping charges.
Copyright 2013 Associated Press