Police: 4 discovered bodies are victims of 'shopping cart killer'
"We suspect that he has more victims," said Chief Kevin Davis. "He's a predator, as all serial killers are"
---
By Hayley Fowler
The Charlotte Observer
WASHINGTON — An alleged serial killer is accused of murdering at least four women — three of whom he met on dating apps — whose bodies he transported using shopping carts in Virginia and Washington, D.C.
Law enforcement has dubbed him the "Shopping Cart Killer."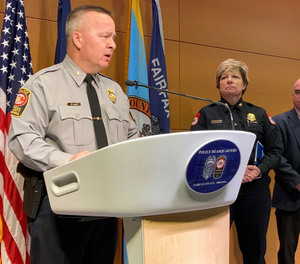 "We have a serial killer," Fairfax County Police Chief Kevin Davis said during a Dec. 17 news conference. "The good thing is, he is in custody. The challenge that remains is identifying other victims."
Anthony Robinson, 35, was arrested after two women's bodies were found Nov. 23 in an open lot in Harrisonburg, Virginia, Harrisonburg Police Chief Kelley Warner said. Robinson — who police said has no criminal record — was charged with first-degree murder and concealing, transporting or altering a dead body.
Three weeks later, police in Fairfax County, Virginia, discovered the bodies of two more women in a container near a Target shopping cart in a remote wooded area.
Davis said Robinson moved all of his victims in shopping carts.
"We suspect that he has more victims," he said. "He's a predator, as all serial killers are."
First victims
Law enforcement officials have positively identified two of the victims as 54-year-old Allene Elizabeth "Beth" Redmon, of Harrisonburg, Virginia, and 39-year-old Tonita Lorice Smith, of Charlottesville, Virginia. A third victim has been tentatively identified as Cheyenne Brown, a 29-year-old from Washington, D.C., who went missing Sept. 30.
The remains of the fourth victim, which were found in a container with Brown's body on Dec. 15, have not been identified.
Police in Harrisonburg were investigating Redmond and Smith as separate missing persons cases before investigators discovered their bodies within a short distance of each other last month. Police said the women were killed at different times.
Redmon was last seen on Oct. 24 and was reported missing after she failed to get in touch with family and didn't show up to work or return to her apartment.
"Those close to Redmon are concerned because this is reportedly out of character and very unlike her to miss her obligations," the Harrisonburg Police Department said in a Nov. 10 news release.
Smith was reported missing Nov. 19, and investigators believed she might have traveled to Harrisonburg some time after she was last seen on Nov. 14, according to a news release from Charlottesville Police.
The discovery of their bodies and Robinson's arrest set off a coordinated effort among law enforcement agencies to track down more of his victims, Warner said.
Missing person in D.C.
On Nov. 30, the Metropolitan Police in Washington, D.C., contacted investigators in Harrisonburg to report that Robinson was the last person to speak with a missing person whose case they were investigating. Warner said they used cell phone records to determine Robinson made contact with the victim near the Moon Inn — a two-start hotel off of Richmond Highway in Alexandria, Virginia.
That victim was Brown, who police said was reported missing on Oct. 12.
Major Ed O'Carroll, commander of the major crimes and cyber and forensics bureau, said Brown took the metro on Sept. 30 to the Huntington Metro Stop in Alexandria and "never returned."
Police and cadaver dogs searched the area around the Moon Inn, but O'Carroll said they didn't find her or any evidence.
He said Fairfax police then met with law enforcement in Harrisonburg to investigate a potential connection between Brown and Robinson. They subsequently discovered surveillance footage that showed Brown and Robinson at the same metro stop on the day she disappeared.
Detectives returned to the Moon Inn on Dec. 15 to expand their search, O'Carroll said.
"Remembering that the victims in the Harrisonburg murders were transported by using a shopping cart, detectives observed a shopping cart in the wooded area not far from the Moon Inn," he said. "Beside the shopping cart was a lone container. When detectives looked inside the lone container, their worst fears were confirmed."
O'Carroll said there were human remains inside and tentatively identified them as Brown's based on a distinct tattoo.
But she wasn't alone.
Ongoing investigation
Police have not been able to identify the fourth victim because of significant decomposition, Davis said, but detectives have leads on who it might be.
He said investigators are "working backwards right now."
"We know that (Robinson) has had addresses as far north as New York to Prince George's County (in Maryland) to Washington, D.C., and we know he's obviously traveled all the way down to Harrisonburg," Davis said. "But where else has he been? Where else has he laid his head? Where else has he worked? Who does he know in all the jurisdictions in between?"
Robinson has a "remarkable absence of a criminal history," he said, and led a transient life with many jobs over the years.
Warner said federal authorities are helping with the investigation but they don't know how far back it will go. Detectives also haven't ruled out whether Robinson was working with someone, O'Carroll said.
"This case has us shaking our head. Why?" he said. "Because the victims did nothing wrong, (it) didn't have to happen. But justice will prevail."
Anyone with information regarding the investigation is asked to call the Fairfax County Police Department, Major Crimes Bureau, at 703-246-7800. Anonymous tips can also be sent to Crime Stoppers at 1-866-411-TIPS.
©2021 The Charlotte Observer. Visit charlotteobserver.com. Distributed by Tribune Content Agency, LLC.
McClatchy-Tribune News Service