Precision policing: The next law enforcement era
A principle of precision policing is to respond to micro criminal populations rather than subject larger populations to police sweeps hoping to catch chronic offenders
---
"The gun violence spikes seen in 2020 and again in 2021 in many cities show the crime reductions experienced over the last three decades are fragile. Cities must have comprehensive strategies to create and maintain safe communities." This is the thesis of a white paper published by the University of Cincinnati's Public Safety Research Center (available in full below) and the focus of a recent webinar, "What Does Law Enforcement Need to Know about Precision Policing 2.0?"
The webinar – which was presented by the Justice Clearinghouse, an online educational platform with an audience of over 120,000 justice practitioners – was hosted by Dr. Cory Haberman, an associate professor in the School of Criminal Justice and Director of the Institute of Crime Science at the University of Cincinnati. He was joined by Commissioner William Bratton, former police executive with police departments in Boston, New York City and Los Angeles, and Burlington, Vermont Chief of Police Jon Murad, all collaborators on the Precision Policing 2.0 white paper. 
The panel reviewed the history of policing philosophies and the factual foundation for recommending precision policing as an evolution from intelligence-based policing.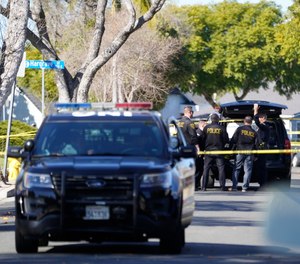 Reducing crime while maintaining liberty
As crime rates, political power and public attitudes rise and fall over time, the eternal question among academics and public officials is whether society can impact criminal activity while maintaining liberty.
Numbers on graphs seem to correlate increased violent crime with reduced public trust, reduced criminal justice funding and reduced numbers of police officers. Would a new philosophical or tactical approach push those violent crime numbers down? The premise of precision policing 2.0 is that a new era of policing can.
4 tenets of Precision Policing
From the use of radios and automobiles that removed officers from neighborhood beats to calls for training and education out of the tumult of the 1960s and 70s, to emphasis on professionalism and effective police response, to community-oriented policing, to intelligence-led policing, law enforcement may now move to precision policing.
Precision policing is undergirded by four tenets:
Evidence-based crime and disorder prevention
Community engagement and protection
Transparency and accountability
Officer performance, safety and wellness.
None of these seem spectacularly new, but technology makes evidence-based crime-fighting more precise.
Crime mapping
Crime mapping has been around since the invention of the pin map. Where there is an incident, stick a pin at its location on the corkboard with the map over it. Find a cluster, increase your patrol. Red pins might be homicides, blue burglaries, yellow sex assaults, white armed robberies. But other than increasing patrols or using manpower-intensive surveillance, what more could an agency do?
A sophisticated pin map is computer modeling such as Compstat. Criminal acts, or disorderly actions, were correlated with potential strategies and resourcing to respond to problems that were charted. Problem-oriented policing sought out root causes that may or may not have a law enforcement solution, but in the spirit of community policing, police agencies could cooperate with governmental and private entities to resolve crime and disorder problems.
All of these strategies and interventions were engaged during a period of lowering crime rates, but they all preceded today's rocketing violent crime rates. The deficit may lie in methods of community engagement and department transparency. With most current crime event tracking, neighborhoods and their population are targeted for more police intervention. In the attention given to proactive policing in an area, local residents may be caught up in law enforcement contacts that are counterproductive for the growth of trust.
New York City's stop and frisk deployment, for example, was effective in reducing crime and increasing arrests but resulted in concerns about unequal treatment of citizens subjected to stops, questioning and searches. Law enforcement thinks that crime suppression is welcomed, but the public is also concerned about liberty and equal treatment. Over-identifying a suspect population can be avoided if police focus on the actions of offenders that are known or discoverable.
What police officers intuitively know is that a relatively small number of people are responsible for a disproportionate amount of criminal activity. Crime analysts reduce that intuition to numbers: 1% of the population is responsible for 25% of crime while 3% are responsible for 50% of crime. One percent of neighborhoods are responsible for 100% of shootings. Small geographic areas and relatively small numbers of victims are subject to repeated crimes. A principle of precision policing is to respond to these micro populations rather than subject larger populations to police sweeps hoping to catch these chronic, prolific offenders.
The role of technology, intelligence gathering
As surprising as it may be to some, 70% or more of shots fired are not reported to police. Technologies like ShotSpotter not only can illicit a real-time notification for immediate police response, but can "pin-map" locations of frequent firearms discharges whether a suspect or police response results or not. It also provides locations for investigators to collect spent brass or other firearms evidence that can be entered into a database to help solve past or future cases.
In addition to technology such as ShotSpotter, engaging the community in intelligence gathering can focus law enforcement efforts. Often, offenders are known to residents of an area but will only be revealed where there are non-confrontational law enforcement contacts gleaning tips from personal interactions. The transparency component involves more than complaints, use of force and policy issues, but revealing, as appropriate, the efforts and intentions of the agency to solve crime and engender trust.
These efforts require resources that allow dedicated officers to be untethered from their radios. The so-called "tyranny of 911" interferes with many prevention and collaboration efforts as urgent calls for service make it appear that officers taken off immediate response duty are not being productive. Training for trust and engagement as an add-on to tactical response and officer safety has the opportunity cost of taking an officer from the patrol car to a chair in the training room.
The efforts of police leaders to restore order to disordered communities can lead to long-term strategies to maintain orderly communities. Investing in precision policing is a path to lower crime, healthier communities and healthier officers.
Precision Policing 2.0 by epraetorian on Scribd