Suspect sought 'respect,' targeted couples in Ariz. shopping center shooting
Police say the 20-year-old man planned to harm 10 people because he felt he "had been bullied in his life"
---
BrieAnna J. Frank, Maria Polletta, Joshua Bowling and Alana Minkler
Arizona Republic
GLENDALE, Ariz. — A 20-year-old man accused of shooting and wounding three people at Westgate Entertainment District in Glendale went there planning to shoot more as a way to "gain some respect," Glendale police said Thursday morning. 
The suspect, Armando Hernandez Jr., was booked into a Maricopa County jail Thursday morning on suspicion of 16 felony charges.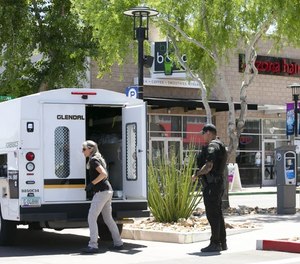 Hernandez, a Peoria resident, said he intended to harm 10 people in an effort to "gain some respect" because he felt he "had been bullied in his life," Glendale police Sgt. Randy Stewart said in a Thursday morning news conference.
During an initial appearance before a judge Thursday, prosecuting attorney Edward Leiter alleged Hernandez identified as an "incel" – referring to an online movement of people who say they are "involuntarily celibate" and promote violence against women. Hernandez's lawyer, Philip Beatty of the Maricopa County Public Defender's Office, objected.
Westgate was still in as state of in-between Thursday morning. Police tape still surrounded the area and all entrances remain closed as investigators continued to gather evidence from the shooting the night before. The main streets around the district were open. 
The incident began at about 7:25 p.m. Wednesday when Glendale police received several calls reporting an active shooter at Westgate, near Glendale Avenue and Loop 101 in the West Valley. Officers arrived on scene within five minutes, Stewart said.
Officials aid Hernandez arrived at Westgate Wednesday, went inside, and began "scoping out the scene" before going to his vehicle to get his weapon. He loaded three rifle magazines and then returned.
Police say he shot three. Leiter said he was specifically targeting couples and two of the victims were together.
One of the responding officers, a police lieutenant with 26 years of experience, found Hernandez "immediately" and took him into custody without further incident. A video shared with The Arizona Republic showed the shooter surrender to police as soon as they approached.
A 19-year-old man who was taken to the hospital with life-threatening injuries remained in critical condition as of Thursday morning, Stewart said.
A 16-year-old girl also was taken to a hospital with injuries that were not life-threatening. A 30-year-old woman was injured but not transported, Stewart said.
McClatchy-Tribune News Service