The violent fringe of the incel movement
Raising awareness about the incel movement could help prevent acts of mass violence before they occur
---
By Dean C. Alexander and Dominic Lesniewski
Disdain against women, sexual frustration and accompanying violence are characteristics of a dangerous faction of a movement termed incel, which stands for "involuntary celibate."
Male incel doctrinaires – often radicalized and communicating online – lament their inability to develop a romantic relationship with a woman. They attribute their incapacities to find female sexual partners due to self-described maladies ranging from physical appearance, social skills, financial status and mental challenges. Some incels even perceive they cannot find a romantic partner absent a significant change such as surgery to improve their physical appearance.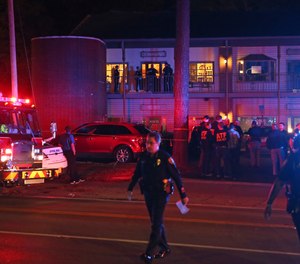 Incel members have espoused that women should be forced to have relations with men. Some incels believe it is their right to have such relations – a pseudo-sense of "aggrieved entitlement." Incel enmity is particularly thrust on individuals they perceive as attractive, popular and promiscuous of both sexes, with the nickname of "Stacy" given to such women and "Chad" given to such men.
This inability to attain sexual satisfaction with females has manifested itself in violence against women, including acts of murder. One could characterize this threat or use of violence against women as a hate crime, as it targets individuals based on their immutable characteristics (their gender).
Some segments within the white incel subculture assert that their sexless life is due to competition from non-white males, including blacks, Asians and Hispanics. This mindset is personified in racist views posted online. Oddly, too, participants on incel forums have spewed harsh language at fellow "members," encouraging already marginalized and distraught persons to commit suicide.
It would be easy to dismiss incels and their predicament satirically were it not that this movement continues to be marked by alienated individuals conducting violence. The noteworthy record of recent incel-fueled violence in the United States and Canada includes the following:
1. UCSB Shooting
In 2014, E.R., 22, killed six people (including two women) and injured 14 others in the community of Isla Vista, near the University of California, Santa Barbara. He explained his predicament, "I've been forced to endure an existence of loneliness, rejection, and unfulfilled desires all because girls have never been attracted to me." Before his onslaught, he wrote, "One day incels will realize their true strength and numbers, and will overthrow this oppressive feminist system. Start envisioning a world where WOMEN FEAR YOU." His lengthy manifesto was titled "My Twisted World." E.R., who referred to himself as the "Supreme Gentleman," has been viewed as a cause célèbre among disparate incels; one whose violence against women (and others), should be replicated to bring attention to the incel cause.
2. Umpqua Community College Shooting
In October 2015, C.H., 26, a self-described incel follower, murdered nine, wounded eight others, and then killed himself at Umpqua Community College in Roseburg, Oregon. His manifesto and other writings referenced his inability to have a girlfriend, reverence for the Isla Vista shooter and racist rants. He also had disdain for organized religion, and – depending on witness accounts – asked his prospective victims if they were Christian, knew God, or had religion. As with other mass shooters, he sought notoriety and significance. In an online post following a mass shooting in Virginia, he wrote, "The more people you kill, the more you're in the limelight."
3. Aztec High School Shooting
In December 2017, W.A., 21, shot and killed two students before killing himself at Aztec High School in New Mexico. Before the incident, he was obsessed with mass shootings and active on alt-right forums. Like other incel members, he praised the Isla Vista shooter and used that pseudonym online. On a thumb drive found on his person, he wrote, "Work sucks, school sucks, life sucks. I just want out of this [expletive]." Clearly, one finds that violent actors within the incel movement are otherwise unsatisfied with their predicament.
On February 14, 2018 – Valentine's Day – N.C., 19, killed 17 people and wounded 17 others at Marjory Stoneman Douglas High School in Parkland, Florida. He had articulated racist, anti-Semitic, and homophobic precepts online, as well as stating that the Isla Vista shooter would not be forgotten. Some incels now claim N.C. as their hero. In March 2018, he was indicted on 17 state charges of murder and an equal number of attempted murder counts. His trial date has yet to be set.
5. Toronto van attack
In April 2018, A.M., 25, purposefully drove a rented van on a sidewalk in downtown Toronto, killing eight women and two men and injuring 16 others. He ultimately surrendered to a police officer after unsuccessfully asking the lawman to shoot him in the head. Before conducting his attack, he posted on Facebook, "Private (Recruit) [A.M.] Infantry 00010, wishing to speak to Sgt 4chan please. C23249161. The Incel Rebellion has already begun! We will overthrow all the Chads and Stacys! All hail the Supreme Gentleman." He was charged with 10 counts of murder and 16 counts of attempted murder. He was found guilty on all counts in March 2021.
6. Yoga Studio shooting
In November 2018, S.B., 40, shot and killed two women at the Hot Yoga studio in Tallahassee, Florida, and injured five others, before killing himself. A veteran and former teacher with two graduate degrees, the shooter had a criminal record of harassing women, had uploaded misogynist videos and articulated anti-black sentiments, and compared himself to the Isla Vista shooter.
Close Calls
In January 2019, C.C., 27, was arrested in Provo, Utah, on his way to attack a women's march event. Police found him by tracking him on his cellphone. Authorities received tips from his Facebook friends about a troubling online post: "I've never had a girlfriend before and I'm still a virgin, this is why I'm planning on shooting up a public place soon and being the next mass shooter cause I'm ready to die and all the girls the [sic] turned me down is going to make it right by killings as many girls as I see." In 2019, he pleaded guilty to a count of an attempted threat of terrorism. He was sentenced to five years in a Utah prison.
In July 2021, an unsealed federal indictment revealed that T.G., 21, was foiled in his attempt to conduct a mass shooting on the campus of Ohio State University. In his writings and online postings, Genco referred to women as "foids," short for femoids, a dehumanizing term incels use to "maintain a delusion of superiority" over women. He was also a prominent poster on online incel forums and, in his postings, invoked the name of the Isla Vista shooter.
Combatting incel violence
In 2019, various instances of domestic extremism/terrorism have merited law enforcement's attention, from violent white nationalism and other hate crime activity, attacks by sovereign citizens and extremist anti-abortion operatives, threats against politicians and homegrown violent extremists (often jihadists).
Violent portions of the incel world appear to merit their place in the domestic threat matrix. Incel attacks perpetrated by the killers listed above and others show that alienation, loneliness, depression and sexual frustration among some males are being used to justify violence against women. 
Raising awareness about the incel movement, its "grievances" and violent tendencies within its fringe could help society mollify counter-narratives and off-ramps in this subculture. Countervailing routes to belligerency could be offered by family, friends, mental health professionals, educational institutions, youth counselors, as well as civic and religious organizations. Such alternative paths might encompass features of resiliency skills, socialization, acceptance and empathy even when frustration and alienation – aggravated by self-isolation and technology – are significant.
In addition, law enforcement can combat incel-infused violence by:
Recognizing features of potential incel illegal behavior (e.g., violent speech calling for immediacy of action and a likelihood of it occurring; stalking; hate crimes; and plans for kinetic incidents);
Following up on tips from the public about threatening language online or offline;
Using informants and undercover agents in sting operations.
Heightened security measures at sites that have experienced incel attacks – educational institutions and health clubs, among others – could prove helpful.
Last, increased monitoring of online platforms by social media companies (e.g., Facebook, Instagram, Twitter and YouTube), other technology firms (e.g., Internet domain registrar, web hosting and other web infrastructure companies), online payment providers, researchers, government officials and the public might undermine peripheral incel adherents who are mobilized to undertake attacks.
This article, originally published September 2019, has been updated.
Next: Mass casualty threat assessment and prevention: 12 steps to moving beyond guessing
---
About the authors
Dean C. Alexander is professor and director of the Homeland Security Research Program at Western Illinois University (WIU).
In 2019, Dominic Lesniewski earned a B.S. degree from the School of Law Enforcement and Justice Administration at WIU.