What you need to know about Executive Order 13688
Plan early if you anticipate using federal funds for any controlled equipment items
---
This feature is part of our new JAG 2016 Success Guide, which gives you everything you need for this year's Justice Assistance Grants program. To read all of the articles included in the guide, click here.
By Audra Thomas, Police1 Special Contributor
In recent years there have been rumblings about the "militarization" of the nation's police force, but the discussion did not permeate the national conversation until the August 2014 protests in Ferguson, Mo. One of the biggest sources of scrutiny concerning this concept relates to the equipment, vehicles and uniforms that local law enforcement agencies use. For decades, the federal government has supplied (through various programs) these items that many consider are representative of a military force rather than an organization meant to prevent, detect and investigate crime in a community.
In the months following Ferguson, the executive and legislative branches conducted separate reviews of federal policy to determine what, if any, actions could be taken to help improve public perception and trust of law enforcement. The federal government took on this role because it is the largest source of funding — via 1033, asset forfeiture and grant programs — that supports local law enforcement equipment acquisition. The reviews found a lack of consistency in the structure, implementation, auditing and stakeholder involvement related to LEA equipment acquisition and its use of military-type equipment.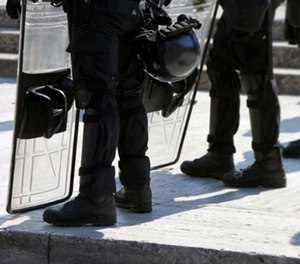 By January 2015, propelled by review findings and increasing public concern regarding use of police force, the Obama administration announced Executive Order 13688. EO 13688 established the federal interagency Law Enforcement Equipment Working Group (LEEWG) to develop recommendations to improve federal support for the appropriate use, acquisition and transfer of controlled equipment by state, local and tribal LEAs. The LEEWG consulted with stakeholders from law enforcement, civil liberties, social justice, local government and other fields to review and provide recommendations about the following topics:
•    How to harmonize program requirements for "consistent and transparent policies"
•    Relevant training needed to operate certain types of equipment or vehicles
•    Policies to ensure LEAs "address appropriate use and employment of controlled equipment" and adopt policies protecting civil rights and civil liberties
Prohibited and controlled equipment
A primary task of the LEEWG was to identify equipment and vehicles to include on federal government-wide lists that govern use of federal funds. In its final recommendations, the LEEWG identified items that had significant impact on community trust and where the federal government could influence purchases. Two lists were established: the Prohibited Equipment List and the Controlled Equipment List. Each list is reviewed periodically and only applies to items that are funded by federal resources.
Federal funding streams include grants, loans, excess/surplus equipment transfers and asset forfeiture programs. The most widely recognized programs include:
•    U.S. Department of Defense: 1033 Program
•    U.S. Department of Homeland Security: Preparedness Grant Programs
•    U.S. Department of Justice: Justice Assistance Grant and Equitable Sharing Program 
•    U.S. Department of the Treasury: Equitable Sharing Program (TFF)
•    General Services Administration: Federal Surplus Personal Property Donation Program
•    U.S. Department of the Interior 
EO 13688 does not just affect the funding streams listed above — all federal agencies must comply with the EO guidelines throughout every funding and acquisition program.
Prohibited Equipment List
Items on the Prohibited Equipment List cannot be purchased using federal funding streams or acquired via property transfer from federal agencies. Those items are:
•    Tracked armored vehicles: Vehicles that provide ballistic protection to their occupants and utilize a tracked system instead of wheels for forward motion.
•    Weaponized aircraft, vessels and vehicles of any kind: These items will be prohibited from purchase or transfer with weapons installed.
•    Grenade launchers: Firearm or firearm accessory designed to launch small explosive projectiles.
•    Firearms of .50‐caliber or higher
•    Ammunition of .50‐caliber or higher
•    Bayonets: Large knives designed to be attached to the muzzle of a rifle/shotgun/long gun for the purposes of hand‐to‐hand combat.
•    Camouflage uniforms (digital pattern): Woodland and desert patterns are allowable based on operational needs, but these patterns may not be worn in urban or populous areas.
The Prohibited Equipment List took effect on May 18, 2015, and all other provisions started at the beginning of federal fiscal year 2016. If a LEA has federally funded prohibited equipment in its inventory, the federal agency reserved the right to recall the equipment (to date, only the Department of Defense 1033 program has done so). 
Controlled Equipment List
The purpose of the Controlled Equipment List is not to preclude LEAs from purchasing items, but rather to encourage LEAs to carefully consider the appropriateness of acquiring such equipment. Items on the Controlled Equipment List may be purchased with or acquired from federal sources if the agency meets certain reporting and training requirements and other policies. Each federal agency that provides funding for controlled equipment was required to establish specific protocols for acquiring such equipment and started implementing the protocols for purchases made on or after Oct. 1, 2015. 
The Controlled Equipment List below is from the LEEWG Final Report and provides broad descriptions of each category. Federal agencies may further define each category, so LEAs pursuing controlled equipment should read the individual program guidelines carefully to make sure their requests align with agency requirements. 
Controlled Equipment List
| | |
| --- | --- |
| Manned aircraft, fixed wing | Powered aircraft with a crew aboard, such as airplanes, that uses a fixed wing for lift. |
| Manned aircraft, rotary wing | Powered aircraft with a crew aboard, such as helicopters, that uses a rotary wing for lift. |
| Unmanned aerial vehicles | A remotely piloted, powered aircraft without a crew aboard. |
| Armored vehicles, wheeled | Any wheeled vehicle either purpose‐built or modified to provide ballistic protection to its occupants, such as a Mine‐Resistant Ambush-Protected (MRAP) vehicle or an armored personnel carrier. These vehicles are sometimes used by law enforcement personnel involved in dangerous operating conditions, including active shooter or similar high‐threat situations. These vehicles often have weapon‐firing ports. |
| Tactical vehicles, wheeled | A vehicle purpose‐built to operate on and off the road in support of military operations, such as a HMMWV ("Humvee"), 2.5‐ton truck, 5‐ton truck or a vehicle with a breaching or entry apparatus attached. These vehicles are sometimes used by law enforcement in rough terrain or inclement weather for search and rescue operations, as well as other law enforcement functions. |
| Command and control vehicles | Any wheeled vehicle either purpose‐built or modified to facilitate the operational control and direction of public safety units responding to an incident. Command and control vehicles provide a variety of capabilities to the incident commander, including but not limited to the provision for enhanced communications and other situational awareness capabilities. |
| Specialized firearms and ammunition under .50‐caliber (excludes firearms and ammunition for service‐issued weapons) | Weapons and corresponding ammunition for specialized operations or assignment. This excludes service-issued handguns, rifles or shotguns that are issued or approved by the agency to be used during the course of regularly assigned duties. |
| Explosives and pyrotechnics | Includes "flash bangs" as well as explosive breaching tools often used by special operations units. |
| Breaching apparatus (e.g. battering ram or similar entry device) | Tools designed to provide law enforcement rapid entry into a building or through a secured doorway. These tools may be mechanical in nature (a battering ram), ballistic (slugs) or explosive. |
| Riot batons (excluding service‐issued telescopic or fixed‐length straight batons) | Non‐expandable baton of greater length (generally in excess of 24 inches) than service‐issued types and intended to protect its wielder during melees by providing distance from assailants. |
| Riot helmets | Helmets designed to protect the wearer's face and head from injury during melees from projectiles including rocks, bricks, liquids, etc. Riot helmets include a visor, which protects the face. |
| Riot shields | Shields intended to protect wielders from head to knees in melees. Most are designed for the protection of the user from projectiles including rocks, bricks and liquids. Some afford limited ballistic protection as well. Riot shields may also be used as an offensive weapon to push opponents. |
EO 13688 also provides guidance related to the disposition, transfer and sale of controlled equipment. While each federal agency will outline policies for each specific program, generally organizations must a) strip law enforcement insignias and markings and b) remove sensitive or potentially dangerous components prior to transferring or selling the equipment. An organization must also seek approval for the sale from the federal agency through which it acquired the controlled equipment.
Using grants for controlled equipment
While the process and policies for requesting controlled equipment varies by federal agency, the LEEWG did specify minimum standards and information that recipients must comply with. The Department of Justice and Federal Emergency Management Agency are the two federal agencies most involved in making grants to local jurisdictions. 
As of March 2016, both agencies released initial application and procurement guidelines related to controlled equipment, and they are expected to unveil further policies and guidelines in the coming months. The LEEWG Final Recommendations and subsequent guidance from DOJ and FEMA are excellent sources for LEAs to review to start preparing the information that will be required when requesting federal funds for controlled equipment.
Generally speaking, organizations should be prepared to provide the following information when requesting funds for controlled equipment: 
Current inventory of controlled equipment acquired through federal programs.
Pending applications and previous denials (over last five years) for controlled equipment.
Any findings of violations of federal civil rights statues or programmatic terms involving controlled equipment.
Written policies and protocols that specifically govern:

Appropriate use of controlled equipment (including supervision of use)
Evaluation of the controlled equipment's effectiveness in incident response
Auditing and accountability procedures
Transparency and public notice procedures

Proof of training regarding appropriate use of controlled equipment. This training must be provided to any personnel that will use the controlled equipment and be completed before they use it. Training should cover:

Technical proficiency
Scenario-based training
Training on civil rights and liberties

Procedures and reporting requirements for after-action reviews following a significant event.
Regional sharing agreement if the controlled equipment will provide a regional or multi-jurisdictional capability. All participating entities that will use or operate the controlled equipment must certify to meet the requirements for training, after-action analysis reports, recordkeeping and other activities as specified by the federal agency.
Written training, policies and protocols for general policing standards, including:

Community policing
Constitutional policing
Community input and impact considerations
The DOJ has developed a Controlled Expenditures Justification Template that outlines 11 elements that applicants must address. FEMA has also issued Information Bulletin 407 outlining its policies related to EO 13688. 
The information provided thus far related to EO 13688 implementation and certifications primarily applies to direct awardees and/or State Administering Authorities (SAAs) receiving federal funds. Each state will be responsible for developing its own data collection and reporting policies for sub-grantees.
What it all means
Plan early if you anticipate using federal funds for any controlled equipment items. Depending on your organization's current policies and the funding source you are requesting, it could be more than a year from the time of application to the time your agency receives the funding. Organizations that are considering requesting controlled equipment should spend time now reviewing the EO 13688 information provided by the DOJ, FEMA and other federal agencies to assess their readiness to apply for federal funding streams. 
Read carefully, because the application process and required documentation will vary based on the entity that administers the program. Applications submitted directly to a federal agency will require more stringent documentation at the time of application, but requests submitted for pass-through funding to your SAA may follow other processes. 
Evaluate your region's capabilities and resources. EO 13688 gives a boost to the push for regionalization of assets. Controlled equipment requires special monitoring and application procedures, so requests that support a strong regional or multi-jurisdictional capability are encouraged. 
Take inventory and get your recordkeeping in order. New requests for controlled equipment will have to disclose any controlled or prohibited equipment previously supported by federal funding streams, so make sure you know your organization's current inventory. Furthermore, EO 13688 requires that organizations with newly-funded controlled equipment provide extensive documentation and reports regarding training, public notice and internal policies, so you will need to track this information. Access to these records can help your organization demonstrate compliance with EO 13688 requirements if the purchase or use of controlled equipment is ever questioned.
Resources
•    EO 13688 Permanent Working Group
•    Final Recommendations Pursuant to Executive Order 13688 (May 2015)
•    BJA FY 2015 Prohibited & Controlled Expenditures Guidance
•    11 Key Elements of the JAG Grant for Controlled Equipment
•    FEMA Information Bulletin 407
•    FEMA Authorized Equipment List (AEL)