How one NFL star quietly supports American police
Despite perception to the contrary, numerous professional athletes show support for police — and in the case of Super Bowl Champion Ben Roethlisberger, with enormous financial donations
---
Editor's Note: The deadline for 2016 Ben Roethlisberger Foundation (BRF) 2016 Grant Application has passed, but agencies preparing proposals for 2017 should note that they may submit their grant applications on this website when the 11th grant cycle begins next year. For more information about the Ben Roethlisberger Foundation or The Giving Back Fund, interested parties can contact Jessica Duffaut via email.
Even as professional athletes like Colin Kaepernick kneel during the national anthem in protest over what they perceive to be an unfair judicial system that disproportionately targets minority populations, some of the elites who play games for money support law enforcement. This was most recently witnessed when four members of the Philadelphia Eagles stopped by to visit University of Pennsylvania Police Officer Ed Miller in the hospital, where he was recovering from wounds sustained over the weekend. Jordan Mathews, Trey Burton, Zach Ertz, and Jordan Hicks took time to visit with Miller before boarding their team plane to Chicago, where they proceeded to defeat the Bears.
Prior to that, we saw NBA star Dwyane Wade return to Miami — where he played for the first 13 years of his NBA career on the Heat — for a six-mile bicycle ride alongside police.
"I really reached out to the police department for them to be a part of this, to really drive home unity with the police as well in the community," said Wade, who was joined on the unity ride by former Heat teammate Udonis Haslem. That effort was met with some skepticism among police across the country, but the local cops quickly embraced the gesture and seized the opportunity to better connect with the community.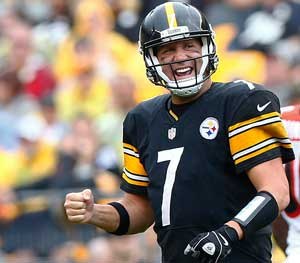 Bring on Big Ben
If American cops want to root for a professional athlete — as opposed to rooting against one — Pittsburgh Steelers quarterback Ben Roethlisberger is as good a candidate.
Many officers may not know that for the past decade Roethlisberger has been quietly supporting police K-9 units across the country with generous donations from his foundation. Roethlisberger established his foundation in 2006 after a police dog was shot and killed in his hometown of Findlay, Ohio. 
Roethlisberger's foundation has distributed in excess of $1.5 million in 177 grants since 2007 and donated more than $170,000 to K-9 units around the country during the 2015 NFL season. 
The K-9 grants have funded the purchase of dogs, training of dogs and handlers, training and safety equipment, and as well as food, vet services and housing.
"I have had the opportunity to see first-hand how important the dogs are to these men and women who risk their lives every day to protect us. It's incredible to see the strong bond that is formed between the dogs and their partners both on the job and at home," Roethlisberger said on his website. 
The most recent recipient of funds is the Arlington County (Va.) Police Department, which will use the grant funds to purchase ballistic vests for their existing seven K-9s.
In a written statement, Chief M. Jay Farr said, "Our K-9s are integral members of the Arlington County Police Department, both in the field and from a community outreach perspective. We are grateful to receive this grant so we can provide our K-9s with ballistic vests as an added layer of protection to keep them safe."
According to Roethlisberger's official website, his foundation will be distributing grants in the cities and surrounding communities of each regular season away game for the Steelers during the 2016 NFL season — Washington D.C., Philadelphia, Miami, Baltimore, Cleveland, Indianapolis, Buffalo, and Cincinnati areas. 
In commenting on why the mission of the foundation is so important to him, Roethlisberger said in a written statement, "We're very fortunate to be in the position that we are able to help these K-9 units. The work that is performed by the dogs and their handlers as well as the bond that is formed is incredible. We're just thrilled to do our small part."
In addition to supporting police and fire departments, Roethlisberger's foundation supports a variety of community organizations, including Ronald McDonald House Charities and Make-A-Wish. Roethlisberger has pledged to donate $1,000 to his foundation for every touchdown he throws this season. That could amount to a substantial stack of cash. He connected with a receiver in the end zone 28 times in an injury-shortened season last year, and in 2014, he tied a career high with 32 touchdown passes. So send Big Ben some words of encouragement — and maybe add him to your fantasy roster.