How the Aftermath K-9 grant helps police agencies fund K-9 programs
The 2018 Aftermath K-9 Grant kicks off October 1st
---
Sponsored by Aftermath.
Fall is best known for football, bonfires, and sweater weather, but for many agencies it also means the start of the annual Aftermath K-9 Grant. As the nation's largest dedicated crime scene cleanup company, Aftermath Services proudly recognizes the contributions made by K-9 officers and their partners. In an effort to provide law enforcement with access to this valuable resource, Aftermath created the Annual K-9 Grant to help offset the cost of creating or maintaining a K-9 program.
When the grant was first announced in 2010, it focused on assisting a single department in the initial stages of creating a K-9 unit.  In 2015, to better honor the company's mission and improve relationships between agencies and communities, the voting process was changed to allow any member of the community to nominate and vote for their local agency. Furthermore, the grant was expanded to include departments with existing units, to aid in the purchase of safety equipment, continuing training and certification, and supplies such as food and veterinary care - all important and costly aspects of maintaining an active K-9 unit.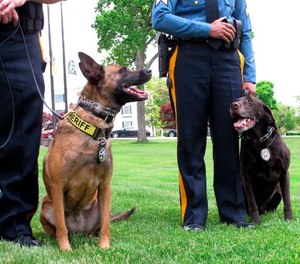 Eight grants totaling over $16,500 were awarded in 2017, with over 331,000 votes cast by communities throughout the country.
MAKING COMMUNITIES SAFER
By far, the greatest success of the Aftermath K-9 Grant are the lives it has touched. For two consecutive years, the Alamogordo Police Department of Alamogordo, New Mexico has earned a spot among the grant's top dogs. When the department won first place in 2016, they were in the process of creating a K-9 unit. The Alamogordo K-9 Unit has since grown to include three K-9 officers: Brutus, Moika, and its newest member Covi.
For the people and officers of Alamogordo, the K-9 Program will always be a memory and a legacy for Officer Clint Corvinus, whose goal was to create a unit in Alamogordo. Corvinus was killed in the line of duty in 2016, before his dreams could be realized. Before his death, Corvinus put in the initial footwork and began raising money for the cause because he believed strongly in the role of K-9s in law enforcement.
Heartbreakingly, the sentiment among many Alamogordo officers is that Corvinus might still be alive if he had had a K-9 partner. Since establishing the K-9 program, Alamogordo has seen increased success in both narcotics and suspect apprehension.
"Citizens feel safer knowing that these fantastic animals are out on patrol and have their backs. K-9s are highly effective and persuasive against those who may cause harm to civilians as well as the officers themselves," said Alamogordo's police chief.
CONNECTING COPS WITH THEIR COMMUNITIES
In 2017, Alamogordo's unit switched places with the 2016 2nd place winners, the Pekin Police Department of Pekin, Illinois. Pekin's current K-9 Officer is a Dutch Shepherd named Ahen. He and Sgt. Rob Jones are certified through the Illinois State Police/ILESTB. Ahen is skilled in narcotics detection, tracking and suspect apprehension; he is also a great ambassador for the department, regularly visiting local schools and community functions.
Since changing the grant to involve community participation, the K-9 Grant has generated a tremendous amount of positive publicity and goodwill – from the kids in elementary, middle, and high schools to the local businesses and media. The K-9 Grant has even inspired businesses to step up and award matching grants.
K-9s are invaluable tools in gaining trust and cooperation; to this end, Pekin's Chief John Dossey says the department is proud of their K-9 officer. "Ahen has found missing children and adults, drugs, and suspects. I wouldn't say any one of those instances is our biggest success…our success is Ahen. People love him. He really brings the community together."
The 2018 Aftermath K-9 Grant kicks off October 1st. Details and rules for the K-9 Grant can be found on the Aftermath website www.aftermath.com/K9-Grant.