How to start and fund a police K-9 unit
If a police K-9 unit is not part of your agency's annual budget, seek financial support through grants for K-9s and community fundraising
---
For more than 100 years, dogs have been part of law enforcement activities in the United States, and have been used in Europe and other parts of the world for even longer. Many police departments – large and small, urban and rural – rely on police K-9 officers to assist in:
A dog's sense of smell is 50 times more sensitive than a human's, making them far superior to any other method of tracking and detection. The very presence of a police K-9 can act as a deterrent to any further escalation of physical violence or resistance from a suspect.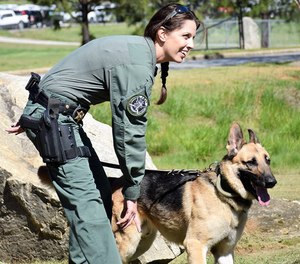 Most of the breeds used for law enforcement are task-specific and based on the dog's capabilities. Breeds commonly used by police and other emergency responders include:
German Shepherds
Dutch Shepherds
Belgian Malinois
Labrador Retrievers
Doberman Pinschers
Beagles
Bloodhounds
Police K-9 cost
As important as K-9s can be to a department, many agencies are unable to provide this service due to the cost involved in purchasing the dogs, training them and their handlers, housing and feeding the animals, and outfitting patrol vehicles to accommodate a dog. Most police K-9s have a career of only around six years.
Obtaining a K-9 from a European source, which would include not only the dog but also their initial training, can cost more than $8,000. Even purchasing from a local K-9 breeder can run into thousands of dollars per dog. But there are other sources of finding an excellent candidate for a K-9 officer, which could include a trip to your local animal shelter.
Police K-9 training costs
After purchasing the dog, even at a reasonable amount, however, the cost of training programs can run between $12,000 and $15,000. Training starts with assessing the dog's ability to be an effective police K-9 officer – including testing their endurance, agility and natural aggression - then basic obedience training.
Specialized training, such as that for detection of drugs, explosives, firearms, computer hardware, as well as arson investigation, SWAT, live subject search and rescue, and cadaver search, adds to the training costs. Officers assigned as handlers for the dogs also need training, and training for both partners – the K-9 and the human officer – is an on-going process.
Other considerations include legal liabilities for injuries caused by a K-9, and ensuring that clear and concise use-of-force protocols are in place and followed. Realistically, though, use of K-9s in many situations can actually reduce liability through a decrease in injuries to responding officers as well as suspects. But these legal factors do need to be considered.
Funding a Police K-9 with grants and fundraising
So, how do you start a police K-9 unit? If not part of your agency's annual budget, financial support will probably involve using a variety of resources.
For federal or state grant opportunities, you may be able to tie in the K-9 unit as an important component of the project being funded. This may take some creative thinking, but since K-9 units work with patrol, detective, and corrections functions, you could design a program that fits the needs of the grant while providing your department with necessary funding for starting the K-9 unit. Just make sure to clearly state how the police K-9 units will be used and why they are important to your project.
Look for grants from private foundations. There are several out that specifically support police K-9 units, but most will not cover all of the costs involved and may require you to do some fundraising on your own.
But partial grant funding doesn't have to be bad news. Often, communities will come together to fundraise for launching or sustaining a police K-9 unit. Consider scout troops, school groups, business and fraternal organizations, or even local businesses, particularly those with a history of community support. Some departments have sold calendars featuring police K-9 photos and look-alike stuffed animals to raise funds. Finally, consider local entertainers, athletes and celebrities. Pittsburgh Steelers quarterback Ben Roethlisberger's foundation awards grants to police departments for K-9 costs.
Donation sites can be set up on your department Facebook page, with GoFund Me or other social media accounts, perhaps to support a specific goal such as buying body armor vests for the K-9s. Let's face it a lot of people love dogs and, if asked, will probably be willing to donate to the cause.
The value of a police K-9 unit to a law enforcement agency is obvious. Financially, creating one and sustaining it may take a lot of effort, but it will be well worth it in in terms of increasing public safety. 
This article, originally published in May 2014, has been updated with current information.