Ind. K-9 officer recovering after being stabbed by burglary suspect
After the suspect allegedly stabbed K-9 Ringo three times, the suspect was shot at least once by an officer but still refused to surrender
---
By Joanna Putman
Police1
INDIANAPOLIS, Ind. — A suspect and a K-9 officer are recovering in the hospital after an incident Sep. 1, WISH reports.
The Indianapolis Metropolitan Police Department responded to a burglary alarm at a business, finding the glass front door shattered, the report says. Two K-9 officers were called to locate the man inside the building. They found him by the business's front desk.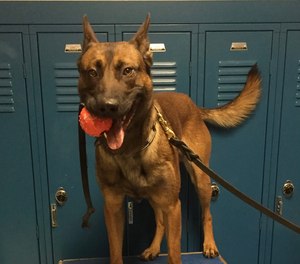 WISH reports that officers outside the building repeatedly told the suspect, now identified as Brandon Ramirez, to surrender and come out of the building. Instead, he stabbed K-9 Ringo, at least once.
After the stabbing, Ramirez was shot at least once by an officer, but still refused to surrender. He was then stunned by another officer with a taser.
A tweet by the Indianapolis Metropolitan Police Department states that K-9 Ringo had three stab wounds and had undergone surgery. He is in stable but at-risk condition and will be closely monitored for several days. The tweet also said Ramirez remains in the hospital.
 Ramirez was arrested for burglary, resisting law enforcement, and cruelty to a law enforcement animal.