New Calif. sheriff's K-9 named after 2 fallen deputies
The K-9 officer was named in honor of deputies Isaiah Cordero and Darnell Calhoun, who were both killed within a two-week span
---
By Sarah Roebuck 
Police1
RIVERSIDE, Calif. — The newest member of the Riverside County Sheriff's Office is honoring two deputies who were killed in the line of duty.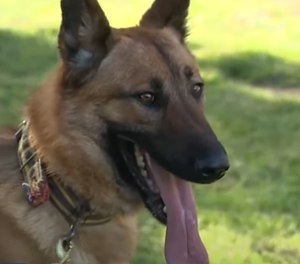 C.C., the K-9 officer, was named in honor of fallen deputies Isaiah Cordero and Darnell Calhoun, who were both shot and killed within a two-week span while working.
The 1-and-a-half-year-old K-9 is a German Shepherd and Belgian Malinois mix who is assigned to Deputy Marcus Murray, CBS reports. 
Murray told CBS that C.C. is a drug and addiction dog tasked with sniffing around crime scenes to find narcotics. 
Deputy Isaiah Cordero was shot and killed by a suspect who had an active felony warrant on a case involving a kidnapping and stabbing of a CHP K-9 in December. Just 16 days later, Deputy Darnell Calhoun was fatally shot in the city of Lake Elsinore, the sheriff said. He died after being taken to the hospital in serious condition.