Police: K-9 killed by suspected poisoning
Police have not yet determined how or when K-9 Willie was poisoned, officials said
---
By Anna Ortiz
The Times, Munster, Ind.
GARY, Ind. — A Gary police dog recently died due to what authorities believe is poisoning.
Police have not yet determined how or when Willie, a German shepherd, was poisoned, said Gary Lt. Dawn Westerfield. Willie was one of the newest dogs in the department and his human partner was Gary Officer Donald Briggs.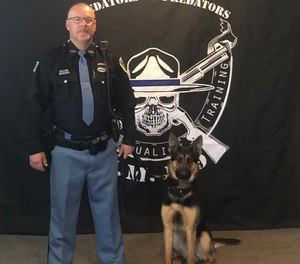 The circumstances surrounding Willie's death and why authorities suspect he was poisoned have not yet been released. Westerfield did not immediately respond to The Times' inquiries into a possible investigation surrounding the police dog's death.
The Gary K-9 Unit has four police dogs and four handlers, according to the Gary K-9 Association. The unit has been deployed more than 3,500 times including in apprehending suspects involved in rape, burglaries, murders, shootings and theft cases.
In addition, Gary police dogs have tracked down missing people and aided in the seizure of large amounts of narcotics being trafficked locally and on highways.
With the loss of Willie and the retirement of another senior K-9, the Gary Police Department is seeking donations to gain more police dogs. The Gary K-9 Association is working to raise funds, in which one police dog can cost up to $15,000 to purchase.
In addition, yearly costs for equipment, training, vet care and expenses relating to each dog can mount to more than $10,000, the association said.
Those who wish to donate can mail a check to the Gary K-9 Association at P.O. Box 64409, Gary, IN, 46401. Anyone with questions can contact Gary K-9 Association President and K-9 Unit Supervisor Cpl. John Artibey at garycanine@yahoo.com.
©2020 The Times (Munster, Ind.)
McClatchy-Tribune News Service