Tenn. cop who resigned amid scandal buys former K-9 partner
The town agreed to sell the popular dog to the officer, who resigned after a Facebook post landed him in trouble with the department
---
By Becky Campbell
Johnson City Press
JONESBOROUGH, Tenn. — A Jonesborough police officer who resigned earlier this month amid a Facebook controversy that was likely to get him fired now owns his popular K-9 partner, Rio, after the town agreed to sell the dog.
Officer Scottie Greene, who started with Jonesborough Public Safety in 2007, submitted his written resignation March 4 in the midst of an internal investigation about a post to his Facebook profile page.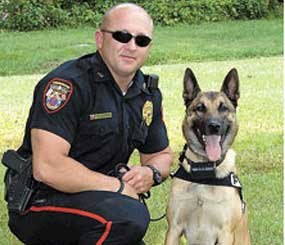 It was the last in a string of infractions documented by the department in Greene's personnel file, which the Press accessed through an Open Records request Friday.
In a Feb. 27 letter to Greene from Major Matt Rice, the department was contacted by someone from the District Attorney's Office about the post because it could be perceived as a racist comment.
"It comes down to public trust with town employees and police officers," said Jonesborough Police Chief Matt Hawkins.
Greene said he reposted a comment from a Facebook page where people — presumably police officers ­ — post stories about things that happen when they're working.
The particular post on Greene's page, according to Rice's letter, read: "Yes ... I know what I ordered ... a black coffee with 4 shots of espresso. No I do not want whip cream on it ... yes I said a medium not a Grande you know the one between a small and a large. ... Yes I know its gonna be strong. Thanks for informing me of this my little nappy dreadlock having dope head ... p.s. see you soon."
In a response to Rice's letter, Greene acknowledged putting the post on his page, but said it was aimed "at the day-to-day life of a police officer," and was never intended as a racist comment.
"It's funny stories from police officers all over, funny encounters, funny arrests. There was a story about a cop getting a cup of coffee at a Starbucks. This wasn't my story. It was a repost of a comment," Greene told the Press.
"I'm just a silly goofy cop who likes to make people laugh. If it was in bad humor and I offended anyone, I'm sorry," he said.
Greene's punishment for the post started out as a three-day suspension, but during that time he said Rice notified him about an impending termination.
As a result, Greene resigned. That also meant he had to sever his relationship with K9 Rio, a lovable police dog popular with kids but not so popular with suspects.
After a review of Rio's health status, the department determined an arthritic condition would only give Rio about one more year of service. The town calculated the dog's worth for that remaining year and gave Greene the opportunity to purchase the dog.
Greene said he couldn't afford the $600-plus price, but a business in Johnson City paid it for him. Now Rio is retired and living with Greene.
During his six years at Jonesborough, Greene had nine reprimands, most of which resulted in unpaid suspensions.
Greene said he feels like he was targeted during his time at Jonesborough and written up for "ridiculous" infractions.
Twice he was reprimanded for allowing Rio to ride in his personal vehicle, a direct violation of department policy.
There were also reprimands and discipline for violating the pursuit policy, use of emergency sirens and lights and missing mandatory training. Greene later completed that training, according to documents in his file.
But Greene also received commendations and several letters of recognition during his time at Jonesborough. Earlier this year, he was one of six officers in a 26-county region named "2012 East Tennessee DUI Officer of the Year" by the Governor's Highway Safety Office.
Greene said he loves being a police officer and hopes the Facebook situation and subsequent media attention doesn't hinder him from continuing in law enforcement.
"I love being a cop. That's my calling. Anyone who knows me knows I've been ... respectful to everyone," he said. "I'm trying my hardest to continue this career."
Hawkins said the department has great officers and he wants to see the department move forward from the situation.
"There was an issue, it was addressed, it's time to move forward. We have to. We have no other choice," Hawkins said.
Reprinted with permission from Johnson City Press