NYPD releases new bodycam recording release policy
Under the policy, the city will release audio and video recordings of any fatal officer-involved incidents within 30 days
---
Shant Shahrigian
New York Daily News
NEW YORK — Every time NYPD officers kill someone, the city will release audio and video recordings to the public within 30 days, Mayor de Blasio said Tuesday, the latest in a series of reforms prompted by widespread anti-police-brutality protests.
He announced three criteria for releasing the bodycam recordings: when an officer fires their gun and a bullet hits someone or "could" hit someone; when an officer tases someone to death or causes "substantial bodily harm;" and when other use of force results in death or "great bodily harm."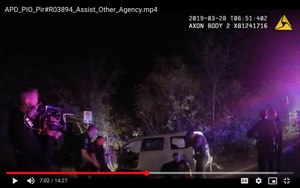 "That creates trust, that creates accountability, that says to the many, many good officers that they know the whole truth will come out from what they saw, from their literal perspective," de Blasio said at a press conference.
"And it says to any officer who doesn't yet fully understand their responsibility that they will be held accountable and there will be consequences," he added.
The footage will first be shared family members of those involved in use-of-force incidents, the mayor said, and will be made available online to the public within 30 days.
McClatchy-Tribune News Service