What leadership style works best during a crisis?
Transformational leadership is one of the best approaches during tumultuous times
---
By Dr. Barry Denton
The year 2020 has been a time of trials and tribulations for law enforcement. Steady leadership that encompasses professionalism has never been more important.
While there are several styles of leadership, certain ones are more prevalent than others in the administration of law enforcement agencies. Let's review three leadership styles and assess what works best during tumultuous times.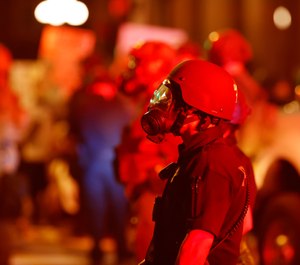 1. Autocratic style
One of the most common  types of leadership practiced by law enforcement agency administrators is authoritarian in nature.
In the autocratic style, also known as authoritarian leadership or authoritative style, the leader makes all decisions with little to no input from group members. The leader controls all decisions and makes choices based on their own thoughts and beliefs, with little to no advice from those reporting to them.
Although in a paramilitary organization having a chain of command is important, this is the least favorable leadership style for law enforcement. Law enforcement agency administrators should consider the various commanding officers and frontline officers and deputies that report to them because they are just that – the front line.
Known as the "backbone" of a law enforcement agency, patrol officers and patrol deputies have the most direct contact with the community so they should help in providing the executive leader – whether that be a chief of police, sheriff or commissioner – key information that that helps the leader make decisions  that promote positive relations with the community. In addition, when commanding officers and frontline officers and deputies are provided the ability to give input, they feel appreciated and a part of the process.
2. Laissez-faire style
The laissez-faire style of leadership is the exact opposite of the authoritarian style of leadership.
Leaders who use a laissez-faire leadership method don't make any decisions themselves, but allow the team, or subordinates, to make decisions. They are dependent on their staff to make all the decisions, regardless of the situation. In regard to law enforcement, this hands-off approach is not ideal because the executive leader should lead, as well as considering information provided by the staff and rank-and-file police officers or deputies.
With the laissez-faire style of leadership, subordinates must be motivated self-starters, but within any department, you will have a mixture of employees, some with a self-starter attitude while others might have more of a retired-on-duty mentality.
3. Transformational style
Transformational leadership became popular with the emergence of political sociologist James MacGregor Burns' work "Leadership" in 1978. Burns wrote that to better reach the goals of leaders and followers you must tap into the motivation of followers.
A transformational leader uses their charisma to engage others and establish connections that increase the level of employees' motivation. A transformational leader  considers the needs of their staff members and figures out what motivates them. Such a leader will personalize their approach with an understanding of the greater good and by prioritizing information given to them by members
In the world of law enforcement, an executive leader who uses the transformational leadership style will not only motivate others, including those in the community in which they serve, but also fulfill their needs. The transformational leader is concerned with improving performance, which again includes the community and agency, and looks to see that all reach their full potential. The law enforcement executive stimulates creativity and innovation while creating a supportive climate through active listening. This is important not just to those followers within their own organization, but within the community.
The transformational style of leadership is therefore one of the best ways to lead a law enforcement agency, encompassing the best of the other styles of leadership while embracing the importance of others' contributions.
In light of current national conflicts taking place across the United States, police officers and deputies, along with their commanding officers, must have charismatic executive law enforcement leaders who instill trust in them along with trust in their decisions while holding them accountable for professionalism and integrity. In turn, the community must have a charismatic executive law enforcement leaders who build confidence and trust with the proper level of engagement between supporting  subordinates and the community in which they serve.
NEXT: Why leaders should be neither feared nor loved
---
References
Hanning, D. (2019). Laissez-Faire Leadership: Working Without Borders. Honestly.com. Retrieved on August 27, 2020 from https://www.honestly.com/blog/laissez-faire-leadership/.
MacGregor Burns, J. (1978). Leadership. Harper and Row, New York, New York.
Northouse, P. (2010). Leadership: Theory and Practice 5th Edition. Sage Publications, Thousand Oaks, California.
About the author
Dr. Barry Denton has been in law enforcement for more than 29 years. He currently serves as a lieutenant with the Spencer County Sheriff's Office in Taylorsville, Ky. He also is an author, most recently publishing Crime and Justice: Past and Present (Kendall-Hunt) and Case Studies in Terrorism (Kendall-Hunt). He is a professor at American Military University, where he teaches courses related to terrorism, criminal justice and emergency management.