After LE pressure, NY lawmakers propose changes to new bail laws
The proposed changes would erase cash bail from the system and allow judges to indefinitely jail suspects charged with felonies
---
Denis Slattery
New York Daily News
ALBANY — Democrats in the state Senate are proposing changes to newly enacted bail laws that have prompted a public backlash from cops and prosecutors.
A working group of lawmakers assembled by Senate Majority Leader Andrea Stewart-Cousins (D-Yonkers) has come up with tweaks to the controversial reforms that would eliminate cash bail altogether and allow judges more discretion when deciding whether to release someone awaiting trial.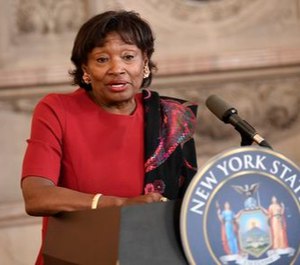 "We are getting rid of cash bail completely," Stewart-Cousins said in a statement. "Simply put, the reforms will ensure that no one will be incarcerated simply because of their inability to pay and that no one will be let out of prison because of their enormous wealth.
"Our reforms would represent the most progressive justice reforms and the justice system in the nation," she added.
The news was met with trepidation and resistance from advocates and some members of the Assembly.
The controversy began last year when Dems eliminated cash bail for the majority of misdemeanors and nonviolent crimes as part of the state budget last year. Republicans, law enforcement officials, and prosecutors have argued that the new laws jeopardize public safety and several polls have found the move to be incredibly unpopular among New Yorkers.
In response to the backlash, a group of eight Democratic senators met behind closed doors with cops, attorneys and criminal justice advocates over the past seven weeks, assessing the impacts of the overhauls that only took effect on Jan. 1.
"We think, after speaking with people on the front lines trying to keep us safe, that we need to give them the tools to do their job, but we think that the proposal that the Majority Leader laid out does this in a fair way where courts will have to treat everybody fair and equally" Sen. Todd Kaminsky (D-Nassau) told the Daily News.
The plan they came up with mirrors the federal system by giving judges guidelines and guardrails on possible remand. Judges would be able to order repeat offenders to be held awaiting trial as well as people accused of crimes that result in the death of another person, certain domestic violence felonies and certain hate crimes.
As under current law, nearly all misdemeanors would not be eligible for judicial discretion, meaning New Yorkers accused of these crimes would not be incarcerated. Newsday first reported on the Senate plans to revamp the reforms.
Early on, amid heated public pushback, Stewart-Cousins indicated an openness to amending the overhauls, as did Gov. Cuomo. Even Mayor de Blasio has said changes are needed as he recently tied an uptick in crime to the criminal justice laws.
Cuomo commended the plan being put forth, likening it to his own proposal made last year.
"I just don't want to react to fiction and fear and politics," he said. "You have to separate the politics and the fear from the facts and let's actually make the adjustments on facts and data rather than the political storm we're in."
Republicans have called for nothing short of a full repeal.
Kaminsky, a former federal prosecutor, said the new proposals are common-sense changes that would make it so that a judge could consider whether the person arrested will cause serious physical injury and their likelihood of returning to court when determining if they should be released, monitored or held in jail.
"I think these changes are necessary to strike that important balance between keeping the public safe while creating a system that's fair and we're going to try to advance this and work with anyone who's interested to get this done as soon as we can get it done," he said.
Assembly Speaker Carl Heastie (D-Bronx) said more time is needed to assess the rules currently in place.
"We must use facts and data to determine how the law is working," Heastie said. "(W)e must be careful not to rush to make changes that could cause more people to be incarcerated before their trial and before they have been convicted of a crime."
More than a dozen incensed Assembly Democrats joined advocates for a raucous rally in the Capitol on Wednesday, slamming their colleagues in the Senate for "caving to pressure."
Assemblywoman Tremaine Wright (D-Brooklyn) took issue with Stewart-Cousins' classification of the new changes as "progressive."
"You can call it Christmas, but it doesn't change the fact that this is a Jim Crow-style rollback," she said. "We have to stand up, stand firm in our convictions and we have to remain committed to keeping our people free."
Sens. Julia Salazar (D-Brooklyn) and Jessica Ramos (D-Queens) were the only two senators at the rally.
Advocates also argued that the proposed tweaks would be a step backward and essentially grant judges the right to use bias and discrimination.
"Judges in New York State have always treated black people worse than white people regardless of the charges — this proposal gives them a license to discriminate and lock up more black people in jail," said Roger Clark, a community leader with activist group VOCAL-NY.
McClatchy-Tribune News Service