Eighth Circuit denies qualified immunity for 'on scene' supervisor and officers who fired bean bags during pipeline protest
Court refused to dismiss county liability allegation that sheriff tacitly authorized pattern of unlawful bean bag deployment
---
Marcus Mitchell, an American Indian, sued in the North Dakota Federal District Court, Morton County Sheriff Kyle Kirchmeier and other North Dakota officers for allegedly violating his Fourth Amendment rights. [1] Mitchell's complaint filed pursuant to 42 U.S.C § 1983 (federal civil rights act), alleged that he was shot and injured by officers with lead-filled bean bags while he was engaged in a non-violent peaceful protest.
Mitchell alleged certain facts that the Eighth Circuit Court of Appeals stated it must accept as true at this stage of the legal proceedings. [2] Mitchell participated in protests against the construction of an oil pipeline across Native American tribal land in November 2016. He claimed that under the direction of Morton County Sheriff Kirchmeier, officers on different occasions used violent tactics against protestors including bean bag pellets, rubber bullets, tear gas, pepper spray and firehose-directed freezing water. He alleged these tactics caused numerous serious injuries to protestors. One protestor was allegedly hit by an explosive munition that nearly severed her hand from her arm.
During the night of January 18/19, 2017, Mitchell joined a group of approximately 200 protestors at a bridge closed by law enforcement to "at least … vehicular traffic." A team of officers led by Sergeant Kennelly was dispatched to the scene. Officers were issued shotguns that were capable of firing bean bag rounds. When Mitchell arrived at the bridge, he saw that officers were shooting bean bags at protestors on the bridge. Mitchell joined the protest and stood in front of women and elders. He raised his hands in the air and said in his Lakota language, "Water is life."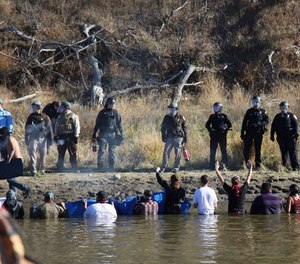 After a law enforcement countdown, several officers fired lead-filled bean bags at Mitchell. He was hit in three locations, including his face. One round shattered his left eye socket, requiring surgery.
Mitchell was arrested for trespassing and obstruction of a government function. He eventually entered into a pretrial diversion agreement with the state in which the state conditionally agreed to dismiss the charges.
The decision of the Eighth Circuit
1. Liability of the officers that shot Mitchell for excessive force
The District Court dismissed the lawsuit against all defendants and Mitchell filed an appeal. Mitchell challenged the dismissal of his allegations that officers who shot him violated the Fourth Amendment by using excessive force. He argued that in addition, Morton County and Sergeant Kennelly were likewise liable for this violation.
The Eighth Circuit reviewed Mitchell's asserted facts and observed that he had not committed a serious crime, did not represent a threat of serious bodily harm to the involved officers and was not resisting arrest. Nonetheless, "officers shot Mitchell with shotgun-propelled, lead-filled bean bags that shattered his eye socket."
The court concluded that if Mitchell's allegations are true, "the officers who shot Mitchell violated his Fourth Amendment rights. Furthermore, because it was clearly established that the alleged conduct violated Mitchell's Fourth Amendment rights, we must assume at this stage of the litigation that the officers … are not entitled to qualified immunity."
2. Liability of Morton County: Tacit authorization of a pattern of excessive force
Mitchell argued that Morton County is liable for damages flowing from his injuries pursuant to the United States Supreme Court decision in Monell v. Department of Social Services. [3] The Eighth Circuit observed that "[a] plaintiff may establish municipal liability under § 1983 by proving that his or her constitutional rights were violated by an 'action pursuant to official municipal policy or misconduct so pervasive [e.g. a pattern of similar misconduct] among non-policymaking employees of the municipality as to constitute a "custom or usage" with the force of law.'" [4]
The court examined Mitchell's complaint and observed that he referenced four instances when officers used bean bag guns on peaceful protestors prior to the night of his serious eye injury. One of those prior situations resulted in a protestor having her hand almost severed from her body. The complaint further alleged that involved officers "wholly failed to provide adequate warnings or announcements to disperse" before firing on peaceful protestors. The court concluded that the lawsuit may proceed against the county and stated, "these allegations indicate a pattern of Morton County law enforcement officers using excessive force against the protestors." [5]
The court observed that Mitchell claimed that Sheriff Kirchmeier knew about the unconstitutional conduct of subordinates and tacitly authorized the use of excessive force against peaceful protestors. The court noted that Kirchmeier allegedly defended his officers' unconstitutional "'use of force, and specifically the use of impact munitions,' calling them 'lawful tools to quell the [protestors'] advancement.'" [6] The court concluded "[d]efending the use of "impact munitions" and "water cannons" in these circumstances [displays knowledge of unconstitutional actions and] amounts to tacitly authorizing the use of excessive force."
Liability of Sergeant Kennelly: Failure of supervisor to intervene
Sergeant Kennelly and other officers were dispatched to the bridge and issued shotguns capable of firing drag-stabilizing bean bag rounds. Kennelly was the on-scene commander and the complaint alleged that he directed the other officers as they fired munitions at the protestors. Mitchell claimed that before his arrival at the bridge officers had been firing bean bags at the protestors for some time. Mitchell claimed that as he approached the bridge, he saw officers shooting people.
The court observed that "[t]hese allegations make it plausible that, having observed and indeed "directed" the use of the bean bags prior to Mitchell's arrival, Sergeant Kennelly had reason to know that the officers would continue to deploy them after Mitchell arrived." Moreover, "[t]hey also make it plausible that, as "scene commander," Sergeant Kennelly had the opportunity and means to stop the use of the bean bags before Mitchell arrived." The court concluded by stating, "supervising officers with the opportunity and means to prevent the use of excessive force have a duty to do so." The court determined that Kennelly was not entitled to qualified immunity.
Lessons learned
Police supervisory officials should use sound judgment and exercise prudence and caution before ordering subordinate officers to use lead-filled shotgun propelled bean bags to control a crowd of protestors. Prior to issuing an order like this, video surveillance of the crowd acting in a physically threatening manner is highly recommended to establish justification for the order.
If firing lead-filled bean bags into a group of protestors is necessary because the protestors present a real threat of serious harm to the officers or others, the event should be recorded on video.
Municipal policymakers, e.g., a county sheriff, are likely to trigger municipal liability by directly ordering subordinate officers to use excessive force against innocent protestors.
Likewise, a county sheriff, police chief, or other municipal policymakers may subject a municipality to liability by failure to stop subordinate unconstitutional misconduct that becomes a pattern of misconduct.
 A municipal policymaker who ignores a pattern of similar subordinate unconstitutional misconduct may be found to have tacitly authorized such misconduct.
High-level law enforcement officials, i.e., sheriffs, police chiefs, etc., should carefully weigh their public statements on the use of force in crowd control situations to avoid those statements being used against them and their municipality in subsequent litigation.
On-scene commanders at protest events who observe the use of excessive force by subordinate officers and fail to intervene will be denied qualified immunity and are likely to face personal liability.
References
1. Mitchell v. Kirchmeier, et al. (No. 21-1071) (8th Cir. 2022). Mitchell also alleged violation of certain First Amendment rights that are not discussed here.

2. In the absence of compelling evidence to the contrary, e.g., video evidence, federal appellate courts are bound by court rules to accept as true possibly disputed material facts offered by the plaintiff during pretrial appellate review.

4. Ware v. Jackson County, 150 F.3d 873, 880 (8th Cir. 1998) (quoting Monell, 436 U.S. at 691). Monell held that municipal liability can flow from a violation of constitutional rights either from a formal municipal policy created by a municipal policy-making official OR through an unofficial unconstitutional practice or custom executed by non-policymakers that official policy-makers knew or should have known about but failed to stop.

5. Establishing a pattern of prior unconstitutional misconduct establishes an unofficial custom or unofficial policy that municipal policymakers knew or should have known about. This by itself can support a finding of municipal liability per Monell.

6. Here the court is quoting from Mitchell's complaint.