Ex-officer Tou Thao takes stand in civil rights case for Floyd death
Former Minneapolis officers J. Alexander Kueng and Thomas Lane have also said they will testify
---
By Chao Xiong, Rochelle Olson
Star Tribune
MINNEAPOLIS — Breaking his public silence for the first time since George Floyd's killing, ex-Minneapolis police officer Tou Thao took the witness stand Tuesday morning and testified about his abusive childhood and Minneapolis police training techniques.
Thao was the second witness called as the defense opened its case in his civil rights trial. His former colleagues — J. Alexander Kueng and Thomas Lane –have said they will also testify when their attorneys present their cases after Thao. The three are being tried jointly in federal court; they are accused of violating Floyd's constitutional right to be free from unreasonable seizure by failing to provide him aid.
Thao and Kueng are also charged with failing to intervene on Floyd's behalf to stop ex-Minneapolis officer Derek Chauvin from kneeling on Floyd's neck for more than nine minutes during a May 25, 2020, arrest.
Under questioning by his defense attorney Robert Paule, Thao testified that he decided to pursue his childhood interest in becoming a police officer after flunking out of Anoka-Ramsey Community College in his first semester and a stint working at Cub Foods. Thao choked up as he recounted how he first encountered Minneapolis police when he was 7 or 8 and his father beat him and his younger brother with an extension cord to break up the boys' fight.
When their mother intervened, Thao said, their father beat her with the cord and then retrieved a gun and threatened to kill them. The family fled to an aunt's house where they called 911.
Thao said he accompanied police back to the family home where he used a key to open the door so police could arrest his father. Thao is the third oldest of seven children.
His father's time away from the home was "the two most peaceful days of my childhood," he said in a strained voice.
Assistant U.S. Attorney LeeAnn Bell objected to Thao's testimony a few times, but was overruled by U.S. District Judge Paul Magnuson, who said Thao could testify about his life and background.
Thao testified that he was born in St. Paul but spent much of his childhood in north Minneapolis before his family moved to Fridley when he was 10. He is married and has daughters ages 5 and 2 and a 1-month-old son.
During Floyd's arrest outside of Cup Foods in south Minneapolis, Thao stood watch over increasingly angry bystanders as Chauvin knelt on Floyd's neck. Kueng and Lane helped pin Floyd stomach-down in the street while he was handcuffed. Jurors convicted Chauvin of murdering Floyd last April in state court. Chauvin later pleaded guilty in federal court to violating Floyd's civil rights.
Thao testified that pinning a suspect to the ground with a knee was within his training protocol. Thao, who was 5 feet 6 inches tall and 150 pounds at the time of his academy training, said he was used as "an example of things" because of his size.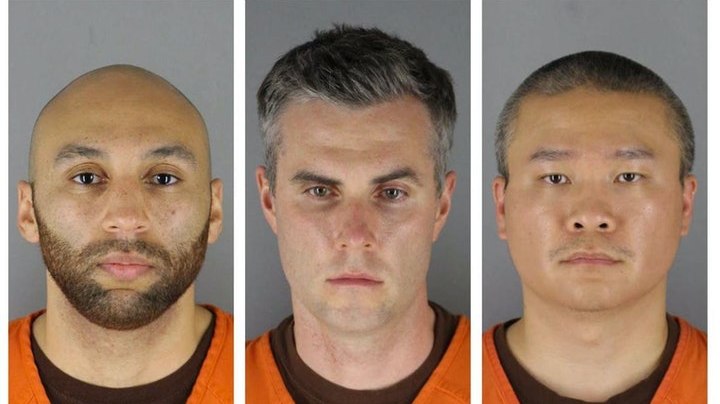 Paule showed jurors several photos from Thao's academy training that showed multiple recruits using their knees on different parts of actors' backs to pin them stomach-down on the ground while handcuffing them. One photo from a 2009 training showed Thao with another recruit positioned over an actor prone with their hands behind their back. Thao explained that he and his classmate used their knees to restrain the actor.
"Just to be clear, is this something that was typically taught at the academy when you were there?" Paule asked.
"Yes," Thao said.
Paule asked Thao if academy trainers ever corrected recruits for using their knees to pin actors.
No, Thao said.
In a different picture, Thao said a recruit appeared to have his knee on the neck of an actor who was stomach-down on the ground.
In an effort to show that other lines were not crossed in training, Paule asked Thao about demonstrations that recruits witnessed but did not replicate.
Thao told the court that recruits observed trainers wrapping their legs around actors' necks to restrain them, but that recruits were prohibited from performing the technique.
Just before noon Thao began testifying about the night of Floyd's arrest and killing. Kueng and Lane arrived at the scene first. Thao and Chauvin arrived as backup.
Thao said he and Chauvin wanted to provide Kueng and Lane with security "just in case things got out of hand because it sounded like they were in a struggle" with Floyd and he was worried it could get out of hand.
Thao said they were told about a struggle with Floyd, so they activated their lights and sirens on the drive to the scene. Halfway there, they were informed the scene was OK so they turned off the lights and sirens and slowed down.
Dispatch called them off the call, Thao testified, but they continued to Cup Foods. Paule asked why.
"From my experience Cup Foods is hostile to police," Thao said. "It's a well-known Bloods gang hangout."
In his eight years as an officer, Thao said he had "not seen this much of a struggle" to get someone inside a squad. He testified that officers at the scene decided not to use a "hobble" to restrain Floyd's legs. It would have complicated matters for the ambulance crew that was on its way to the scene if Floyd had been "tied up like a Christmas present," he said.
Thao testified that at the scene he positioned himself in the street as a "human traffic cone" so vehicles on the road would give his colleagues a wider berth as they passed.
He said that based on his experience working security at a local hospital he believed Floyd was on drugs and in a state of "excited delirium."
Paule asked Thao why he didn't participate in the restraint or medical evaluation of Floyd.
"Because at that point I have a different role," he said, adding that he was doing "crowd control" as several bystanders gathered nearby and urged officers to stop restraining Floyd and to check his pulse.
Thao testified for about 2 1/2 hours before court broke for lunch. He will resume testimony later Tuesday.
©2022 StarTribune. Visit startribune.com. Distributed by Tribune Content Agency, LLC.
McClatchy-Tribune News Service