Grand jury indicts San Francisco cop who was attacked, shot man
The man who was shot was also indicted after video showed him attacking police with a glass bottle just before the shooting
---
By Megan Cassidy
San Francisco Chronicle
SAN FRANCISCO — A grand jury has indicted a rookie San Francisco police officer who fired a single shot at a man who had attacked him and his field training officer, and who was apparently trying to stand up after the training officer shot him multiple times.
Christopher Flores, one of the two San Francisco police officers who shot and seriously injured 25-year-old Jamaica Hampton last year after Hampton attacked the officers, has become the department's second rookie officer to be criminally charged in an on-duty use-of-force case in a matter of weeks. The officer who first shot Hampton as Hampton appeared to close in on him with a bottle in his hand was not charged in the Mission District shooting.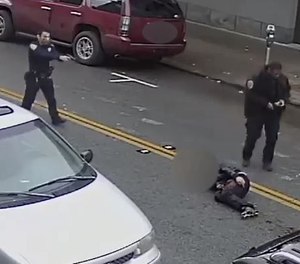 Hampton, who survived the shooting, was also indicted by the grand jury after surveillance footage and police body cameras showed him attacking police with a glass bottle just before the shooting.
The charges against both men have not been made public. Felony charges in California can be leveled by either a grand jury indictment or filed directly by prosecutors.
The indictments of both Flores and Hampton were handed down Friday, but San Francisco District Attorney Chesa Boudin announced them Monday, exactly one year after the Dec. 7, 2019, shooting.
"In any grand jury proceeding, we are required to present any and all exculpatory evidence in our possession," Boudin told The Chronicle. "We are encouraging both defendants to surrender."
Hampton, whose left leg was amputated because of his injuries, was initially booked on charges of assault with a deadly weapon, assault upon a police officer and threats to an officer after videos from police body cameras and surveillance footage showed him hitting an officer with a vodka bottle and then being chased through the intersection at 23rd and Mission streets.
Boudin withdrew those charges earlier this year "without prejudice," leaving the door open to refile the charges at a later date.
Hampton's public defender, Danielle Harris, said the charges against her client were essentially the same ones he faced before Boudin dismissed them. The new indictment, she said, was "not surprising but disappointing nonetheless."
Harris said Hampton spent about three months in the hospital following the shooting, has also lost partial use of his left and dominant arm, and is still enduring a recovery that will likely stretch for years.
"The amount of punishment that Jamaica has already received as a result of his conduct a year ago ... has been so severe, far more severe than anything that could lawfully be done to punish him," Harris said. "It just seems wholly unnecessary and performative, I would say."
Flores was hired by San Francisco police on Nov. 29, 2018, and is assigned to the field operations bureau, according to a San Francisco police spokesman. The spokesman said he could not comment on whether Flores is currently on leave.
In a statement released Monday evening, San Francisco Police Chief Bill Scott said he was "surprised and quite frankly disappointed" by the felony indictment against Flores.
Scott said Flores was the subject of an unprovoked attack by Hampton, who repeatedly struck Flores over the head with a thick glass bottle and pursued Flores as the officer was retreating.
"While I find today's indictment surprising and troubling based on the circumstances, I have faith in our judicial system and confidence that justice will ultimately be done in this case," Scott said.
The indictment against Flores also drew swift rebuke from San Francisco Police Officers Association President Tony Montoya, who called Boudin's decision to pursue the case "absolutely appalling."
Flores, Montoya said, acted to protect the public and his own life.
By presenting a case to a grand jury, rather than "personally file charges" against Hampton, Boudin sent "a clear message" that he "has no intention of protecting officers who are victims of violence," Montoya said in a statement.
" Mr. Boudin is communicating to law enforcement officers today that they must choose between protecting their lives or protecting their freedom, but they cannot do both," he said.
Nicole Pifari, Flores' attorney, said both Flores and his field training officer, Sterling Hayes — the officer who fired the first rounds — were victims of a "brutal" and "incredibly violent attack."
Pifari hinted at a possible defense in a statement to The Chronicle, noting that it was unclear which of the two officers' rounds struck or injured Hampton.
"We look forward to learning how the district attorney plans to prove what injury, if any, the single round fired by Officer Flores caused to Mr. Hampton," she said.
A grand jury indictment means that, after a hearing presented by prosecutors, a pool of citizens decides whether there's probable cause to believe the defendant committed a crime. Defense attorneys are not part of grand jury proceedings, but prosecutors are required to disclose exculpatory evidence.
Defense attorneys are permitted to take part in preliminary hearings, where a judge decides whether there's sufficient cause to believe a defendant committed the crime. A preliminary hearing is not required after a grand jury indictment.
Flores' attorney did not immediately respond to requests for comment.
The indictments come just two weeks after Boudin announced manslaughter charges against Officer Chris Samayoa, the police officer who fatally shot 42-year-old Keita O'Neil in a 2017 case. It was the first time in at least a generation that San Francisco's top prosecutor has charged an officer with homicide in a use-of-force case.
Boudin's pursuit of such cases tracks with one of his central campaign promises to hold police accountable for alleged wrongdoing.
It's a stance that has gained momentum with the public and other prosecutors this year, coming in the wake of nationwide protests over the police killings of Breonna Taylor in Louisville, Ky., and George Floyd in Minneapolis.
Boudin's counterpart across the bay, Alameda County District Attorney Nancy O'Malley, had never charged an officer in a police shooting until this year, when she filed a voluntary manslaughter case against a San Leandro officer who fatally shot a Black man inside a Walmart in April.
Video of the Hampton shooting released by San Francisco police last year showed Hampton, armed with a bottle, as he darted around two officers who chased him with their guns drawn near the intersection of 23rd and Mission streets.
At one point, Hampton came within feet of Hayes, who unloaded six rounds, the video showed. As Hampton attempted to rise from the ground, Flores fired one shot. Boudin said he could not comment on whether prosecutors also sought charges against Hayes.
Police said Hampton matched the description of a suspect in two recent 911 calls. One caller reported an intruder in her house and the other reported that someone was trying to break into cars.
Surveillance footage showed the officers pull over just after Hampton crossed the street in front of them. As Hayes opened his passenger door, Hampton ran over and attacked him. Hayes fended Hampton off by kicking, while Flores, who was driving, ran around to help.
Police said Hampton struck Flores with the bottle, knocking off his body camera. Flores was seen with a bloody nose later in the footage.
Hampton's case marked the San Francisco Police Department's first on-duty shooting since June 2018.
(c)2020 the San Francisco Chronicle
McClatchy-Tribune News Service