Man pleads guilty to '01 police informant killing
The informant had been beaten, stabbed, doused with gasoline and set on fire
---
By Jacques Billeaud
Associated Press
PHOENIX — A police informant in a botched plot to rob nearly $1 million in steroids from a delivery truck was on the phone with a detective when he was struck with brass knuckles. The detective heard a yell, and the call went dead.
Two days later, hunters near a remote stretch of Arizona desert found the body of the informant, 21-year-old Konstantin Simberg.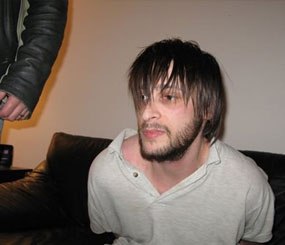 He had been beaten, stabbed, doused with gasoline and set on fire. One of his captors said he could hear Simberg screaming as he left the scene.
The last person to be charged in Simberg's December 2001 death pleaded guilty Friday to murder, kidnapping and aggravated assault charges, bringing an end to a bizarre case that included a bungled heist, a savage killing and an international manhunt for the suspect.
The plea agreement calls for Mikhail Drachev to serve a prison sentence of at least 32 years. He could face several more years behind bars on one conviction in which there was no agreed-upon term.
Sentencing is set for Aug. 15.
Authorities say the 31-year-old Drachev and two other men kidnapped Simberg as he talked to the detective on a phone at a Phoenix apartment. Simberg had agreed to become a police informant to help authorities implicate another man in the theft plot.
As part of his plea, one of Drachev's lawyers said her client struck Simberg with brass knuckles and held him against his will, and that one of his accomplices caused Simberg's death.
Maricopa County Superior Court Judge Jeanne Garcia asked Drachev whether this account was accurate.
"Yes," responded Drachev, a thin man with glasses and a heavy beard.
The saga began with a plot to hijack 6,000 vials of human growth hormone from a FedEx truck that was carrying it to a pharmacy. The plan was to have a group of high school students move boxes of the drugs from the truck to another vehicle.
But the theft was bungled at every turn. The FedEx driver refused to cooperate in the heist and delivered the drugs to the pharmacy. The participants then tried to stage a burglary of the business.
Simberg's role in the theft involved renting a U-Haul truck to transport the drugs.
Police say Drachev and two other men held Simberg captive overnight in the apartment and drove the next morning to patch of desert near the Arizona community of Camp Verde.
Drachev gave Simberg a cigarette and offered him a blindfold, which he declined. Drachev and another man then tried to shoot Simberg, but the gun malfunctioned and didn't fire. The men then set Simberg on fire and left him for dead.
Human growth hormone is best known for being used by athletes and people hoping to delay the effects of aging. Athletes use HGH for a variety of benefits, whether real or perceived, such as increasing speed or improving vision.
The steroid also has legitimate medical purposes, most commonly to treat rare conditions such as a growth defect in children. One of the thieves in the staged burglary sold the stolen HGH to a pharmaceutical supplier.
Two other men, 31-year-old Dennis V. Tsoukanov and 30-year-old Chris Gabriel Andrews, were convicted of murder and kidnapping in Simberg's death. Tsoukanov was sentenced to 13 years in prison, while Andrews was sentenced to life with the possibility of parole after 25 years.
Drachev fled the United States and lived as a fugitive in Canada under an alias until his April 2007 arrest at his Toronto apartment.
Police discovered Drachev's whereabouts through his girlfriend, who learned about Simberg's murder through Internet searches after she found out her boyfriend's real name.
Drachev fought extradition for more than three years and finally was returned to Arizona in August 2010.
Five men who were not charged in Simberg's death pleaded guilty to charges arising from the steroid theft plot. One was sentenced to five years in prison, while the other four got probation.
Copyright 2014 The Associated Press