'Right to resist police' signed into law by Ind. governor
Gov. says law protects police by narrowing circumstances where force can be used against them
---
By Associated Press
INDIANAPOLIS — Indiana Gov. Mitch Daniels said Wednesday that he shares police groups' concerns that some people might misinterpret a new law that lays out when residents could be legally justified in using force against police officers.
Daniels said he thought carefully before signing the bill Tuesday night. The legislation was passed by strong majorities in the House and Senate in response to public uproar after the state Supreme Court ruled last year that residents couldn''t resist officers even during an illegal entry.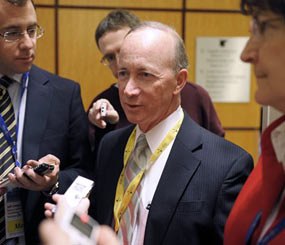 "Contrary to some impressions, the bill strengthens the protection of Indiana law enforcement officers by narrowing the situations in which someone would be justified in using force against them," Daniels said in a written statement. But, he added: "What is troubling to law enforcement officers, and to me, is the chance that citizens hearing reports of change will misunderstand what the law says."
The law took immediate effect.
The measure specifies that people are protected by the state''s self-defense law if they reasonably believe force is necessary to protect themselves, someone else or their own property from unlawful actions by a public servant.
Supporters have said the proposal strengthens the legal rights of people against government agents improperly entering their homes. But police groups worried about the measure giving people justification for attacking officers.
"For those who don''t take the time to read the law, it is going to be devastating for someone to think they have a right to resist if they only think an officer is acting illegally," said William Owensby, president of the Indianapolis chapter of the Fraternal Order of Police.
"Our fear all along was that it''s going to put citizens and officers into grave danger," he said. "I don''t want to have to bury another police officer."
A blizzard of emails to officials, a Statehouse protest and threats against judges ensued when the Indiana Supreme Court ruled last May that homeowners couldn''t use force to resist police officers'' entry into their homes, whether those entries were legal or not. The justices later clarified that the ruling didn''t abridge homeowner''s Fourth Amendment rights.
The ruling came in a Vanderburgh County case in which a man scuffled with an officer who tried to enter his house without a warrant while investigating a report of a domestic disturbance. The man, Richard Barnes, was convicted of resisting law enforcement and other charges.
The court declined comment on the law through a spokesman.
At least one supporter said the law didn''t accomplish what it was supposed to do because it didn''t affect situations like that covered by the Supreme Court decision.
"I think it was a feel-good measure on their part but it really didn''t achieve anything," said Greg Fettig of the tea party group America Refocused. "Police could still go in without any probable cause whatsoever."
Fettig added: "As far as I''m concerned as a private citizen, I will not let them in without a search warrant."
The bill''s primary author, Republican Sen. Michael Young of Indianapolis, said he believes the new law does a good job of balancing police power with individual rights.
"I think the governor took his time and deliberated on the issue just like we did in the General Assembly. It''s a tough issue," Young said.
Copyright 2012 Associated Press