Suspect denies terror plot for San Francisco's Pier 39
Everitt Aaron Jameson pleaded not guilty to plotting to go on a murderous rampage on Christmas in San Francisco's Pier 39
---
By Pablo Lopez
The Fresno Bee
FRESNO, Calif. — Suspected American terrorist Everitt Aaron Jameson of Modesto pleaded not guilty Friday to two felony charges in connection with an alleged plot to go on a murderous rampage on Christmas at Pier 39 in San Francisco – crimes that could put him behind bars for 40 years.
His trial in U.S. District Court in Fresno could be a rarity – prosecutors revealed at Jameson's arraignment that a portion of the evidence is classified material.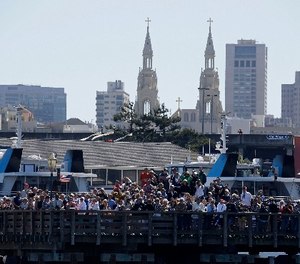 So far, about 8,200 pages of evidence have been given to attorney Charles Lee of the Federal Defenders office, which is defending the 26-year-old Jameson. But a portion of the evidence – less than 1,000 pages – has not been turned over to Lee because it is classified and pertains to national security, prosecutor Christopher Baker and Dawrence "Duce" Rice informed Judge Lawrence J. O'Neill.
Baker and Rice informed O'Neill that they will do everything in their power to get the information declassified before Jameson's trial. To give prosecutors time to get the information declassified, O'Neill said Jameson's next court date will be April 9, when both sides will agree on a trial date.
If prosecutors can't get the evidence declassified, O'Neill will have to follow strict guidelines under the Classified Information Procedures Act, which could keep key evidence secret from the defense, and perhaps hamper Jameson's ability to confront the most sensitive evidence against him.
The act has been routinely used in terrorism cases post-9/11 with the stated intent of preventing criminal defendants from learning sensitive government secrets and disseminating the information to foreign enemies. In general, the act allows judges to put protective orders on evidence, and only those with special clearances from the federal government can read the classified information.
Most judges in Fresno have never handled any such cases in their career.
O'Neill has been a judge in Fresno since 1990, first with the Fresno County Superior Court. He was appointed to the federal bench in 2007 and is cleared to handle classified information, but has only presided over two other such cases in his career.
Jameson showed up in court in a jail jumpsuit. He is being held in the Fresno County Jail without bail. About 10 of his family members and friends attended the brief hearing.
An indictment charges Jameson with attempting to provide material support to a foreign terrorist organization, specifically the Islamic State of Iraq, or ISIS. He also is charged with distribution of information relating to destructive devices with the intent to commit violence. Each charge carries a penalty of up to 20 years in prison and up to $250,000 in fines if convicted.
After the hearing, Lee declined to discuss with reporters any trial strategy, but court records say Jameson suffers from mental illness. In fact, when he was arrested in December, he was temporarily put on psychiatric hold in the Fresno County Jail because staff believed he was a danger to himself, according to a transcript from his Dec. 28 detention hearing.
According to an FBI affidavit, Jameson told an undercover agent that Christmas Day would be "the perfect day to commit the attack" and that he "did not need an escape plan because he was ready to die." He allegedly targeted Pier 39, a popular tourist destination, because "he had been there before" and determined it would allow him to "funnel" people into an area where he could inflict many casualties, the FBI says in court papers.
The indictment says that from Oct. 24 to Dec. 20, Jameson was working on the plot. His alleged plan, however, was thwarted by FBI sources and employees who posed as senior ISIS officials, who secretly recorded conversations with Jameson. Jameson told them he was well-versed in the "Anarchist Cookbook," a how-to handbook on making explosive devices, the affidavit says. Jameson also described how to build pipe bombs out of PVC pipe, gunpowder, nails and BB's, the affidavit says.
Lee indicated at a Dec. 28 detention hearing that Jameson didn't have the means to carry out the alleged plot. During the search of Jameson's home, Lee said, authorities didn't find any bomb-making material. He says the guns found in the home belonged to a relative who owned them legally and had them in a locked gun case that Jameson didn't have access to.
Lee also said Jameson is not a danger to the public because he has no history of violence and only one misdemeanor conviction that has been expunged. In addition, the case is built on Jameson's statements posted on his Facebook page, and he made no effort to hide his identity or use encrypted communication or counter-surveillance techniques.
"What we have here are simple Facebook posts. We have phone calls. We have meetings," Lee said at the detention hearing. "And in none of these scenarios does Mr. Jameson represent that he is anything but who he is."
But Baker said at the detention hearing that Jameson wrote about his plot. According to Baker, Jameson wrote: "We have penetrated and infiltrated your disgusting country. These acts will continue until the lions of Islam overtake you."
And when authorities searched Jameson's home, one of them asked him to describe the mindset of someone who supports ISIS. According to Baker, Jameson said: "The destruction of the United States. The institution of Sharia Law."
©2018 The Fresno Bee (Fresno, Calif.)
McClatchy-Tribune News Service