Denver Pride allows cops to march in 2022 parade, reversing last year's ban
A marching group called "Pride on Duty Colorado" will debut at this year's Denver PrideFest
---
By Suzie Ziegler 
DENVER — Police officers can once again participate in Denver PrideFest. 
This year, Pride organizers have created a new marching group called "Pride on Duty Colorado" for police officers and first responders who identify as members of the LGBTQ+ community, according to Denver 7. The group will also offer training and support for LGBTQ+ officers, according to Denver 7.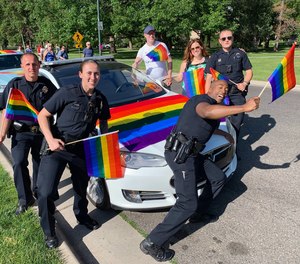 Police were not allowed to march in the Pride parade in 2021. The change comes after a year of listening to community concerns, organizers told Denver 7. 
"Our announcement last year about Denver Pride and not including police in that event was very controversial and very hurtful to a number of people in the community, most specifically LGBT police officers," said Rex Fuller, CEO of The Center on Colfax, the official organizer of Denver PrideFest. "We've tried to include as many opinions as we can and we've tried to come to the best compromise that we can." 
Decisions to include or exclude uniformed officers from Pride events has proved controversial in recent years. Last month, the San Francisco Police Department announced that it would not join the city's Pride parade after organizers barred marching in uniform. Similarly, officers in Aurora, Illinois, have been banned from marching in uniform at Pride. 
Yet Fuller is optimistic for the future of police in Denver PrideFest. 
"When we announced this decision to officers to put this new LGBT group together, the reaction has been really positive," Fuller told Denver 7. 
Denver PrideFest is scheduled to run June 25 – June 26, 2022.
NEXT: Why banning the NYPD at NYC Pride is unsafe and unprogressive