NY trooper's murderer sentenced to life in prison
The man was sentenced to life without parole for the 2017 murder of Trooper Joel R. Davis
---
Craig Fox
Watertown Daily Times, N.Y.
WATERTOWN, NY — No one knew Justin Walters's zest for killing until it was too late.
The convicted cop killer who also murdered his wife hid that his true reasons for joining the Army was to legally kill people.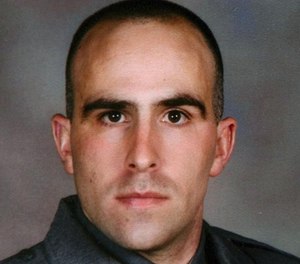 And he fooled his wife's family in making them think he was one of their own and that he was a good husband.
On Tuesday, Walters was sentenced in Jefferson County Court to life in prison without parole for the 2017 murders in front of the Walters' county Route 46 home in Theresa.
Walters, 33, was found guilty by a jury on March 20 of intentionally killing his wife, Nichole V., and state police Trooper Joel R. Davis on July 9. A third person, Rebecca Finkle, was shot in the back while hiding in a shed on the couple's property.
Walters was found guilty on 52 counts that included two counts of first-degree murder, three counts of attempted murder and multiple counts of weapon possession.
The victims' families and a large contingent of law enforcement officers filled the courtroom as it took Judge Kim H. Martusewicz several moments to go through the sentences on each of the 52 counts, including two consecutive terms of life without parole for first-degree murder in the two killings.
Walters also received three terms of 25 years to life for the attempted murder of Ms. Finkle, her daughter Chevy and his son Axel, in addition to concurrent terms for all of those other charges.
Trooper Davis's brother, Josh, looked relieved that it was over.
"This is what was supposed to happen," he said. "Good words to hear. Life without parole."
The mothers of both murder victims and Ms. Finkle described how their lives have been changed by what happened in front of the Walters's home on that summer night. And how much they miss their loved ones.
Trooper Davis's mother, Mary, told the judge that her son will never take another ride on his boat, share laughs around the campfire, see his three children graduate from college or walk his daughter, Jaila, down the aisle.
Taking the trooper away from his family was "a demonic act" and "sinister," his mother said. Walters will get his sentence when "he meets his maker," she said.
Kristin Lum described her daughter Nichole as a devoted, loving mother "who was loved by everyone" and said her family thinks about her every day. Sadly, her daughter's three-year-old son, Axel, will never know her.
"She wanted to grow old with her family and go to college. She had great goals for herself," her mother said. "We all lost our best friend."
Family members also had high hopes for her.
But Walters fooled them into thinking that he would protect her and be a good husband and father, Mrs. Lum said. It's particularly difficult since they took him in as part of their family.
In saying that her life will never be the same, Ms. Finkle described the emotional toll that the murders have taken on her and her family, as she and her two children have been diagnosed with post-traumatic stress disorder.
She laid on top of her daughter, Chevy, and the Walters' son, Axel, while bullets riddled the shed they hid in on the couple's property during the shooting.
At one point, Ms. Finkle paused and became overwhelmed with emotion as she tried to talk about the impact the tragedy has had on her. She stopped for several seconds before she regained her composure.
She witnessed Nichole getting shot in the face and suffer at least 12 other bullet wounds. It's an image that she cannot get out of her head, she told the judge. The "flashbacks and nightmares" are sometimes too difficult to go through, she said.
Calling Nichole her "soulmate," Ms. Finkle said Nichole was like her sister and an aunt to her two children. They had so many plans.
And now, her daughter no longer trusts adults. Her son lost a man who was like a second father. Even the family dog suffers from the physical scars from getting shot that night, she said.
Ms. Finkle wonders whether the military could have done more to prevent what happened. Walters, a former staff sergeant at Fort Drum, received treatment for mental health issues, including for PTSD and alcoholism.
During the sentencing, Judge Martusewicz said Walters knew exactly what he was doing that night, pointing out that Walters wore a t-shirt that read, "Guns don't kill people, I do."
With a reference to the Second Amendment on its side, he fired off 60 rounds from the AR-15 he used to wipe out two lives, the judge remarked.
Talking to reporters outside the courthouse, District Attorney Kristyna S. Mills said it was an "appropriate" sentence for the suffering that Walters caused three families.
In asking for the most serious sentence, the district attorney reiterated that Walters was a marksman and that he made sure his wife suffered before she died and that it took only one shot to kill Trooper Davis while he was getting out of his patrol car at the end of the couple's driveway.
She believes that Walters "masked" who he really was to the military and to those he was closest to. It was only in journal entries he wrote while receiving inpatient care in a hospital in Texas that he revealed his true self.
He joined the Army to legally kill people, the district attorney said.
In the journal entries, Walters talked about a desire to shoot people's faces off, rape and assault women, and wrote that he was a racist who would like to kill billions of people.
Trying the murder case has also been difficult on the district attorney, who doesn't typically show her emotions in the courtroom. But for a brief moment — while describing the loss that Trooper Davis's family has gone through — her voice cracked.
She later explained to reporters what happened.
"You become so close to the families. I obvious knew Joel and I'm part of that family of blue," Mrs. Mills said... "So I think it was a little bit of that coming out."
While admitting there were no excuses for his client's actions, Walters's attorney, Edward F. Narrow, asked the judge to give his client an opportunity to be rehabilitated in prison and for a chance to rejoin society.
Mr. Narrow had argued during the trial that Walters suffered "mental disease and mental defect." The only witness for the defense, Dr. Stephen Price, a psychologist who has a private practice in Albany, testified that Walters didn't know what he was doing that night.
Walters suffered from PTSD and severe alcohol disorder after serving two deployments in Afghanistan in which he saw friends killed during combat, Mr. Narrow contended.
In the end, Walters and his actions left "a stain" on the Army and on his uniform, Mrs. Mills said.
"If there was ever a crime that deserved life without parole, this was it," she told the judge.
But the district attorney said Walters blamed his deployment, his drinking and his mental health for what he had done. He never took any blame for killing the trooper and his wife, she told the judge.
When the judge asked him if he had something to say to the families, to say that he was sorry, Walters remained mostly silent.
"No, your honor," he told the judge.
———
©2019 Watertown Daily Times (Watertown, N.Y.)
McClatchy-Tribune News Service