49 killed in New Zealand mosque shootings
Police apprehended four suspects, but only three were connected with the shootings
---
By Jule Scherer
dpa
WELLINGTON, New Zealand — Forty-nine people have died after extremist gunmen targeted worshippers at two mosques in Christchurch on Friday, in what Prime Minister Jacinda Ardern described as "one of New Zealand's darkest days."
New Zealand Police Commissioner Mike Bush said 41 people were killed in Deans Avenue Mosque and seven were killed in the Linwood mosque in central Christchurch. One victim died at Christchurch Hospital.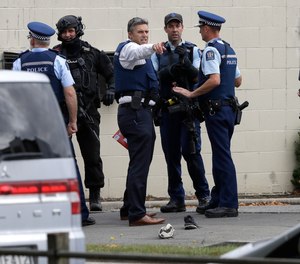 Ardern said, "it is clear that this can only be described as a terrorist attack."
Police apprehended four suspects, but only three were connected with the shootings, she said. Explosives found attached to the suspects' vehicles were disarmed.
A 28-year-old man has been charged with murder and is set to appear in Christchurch court on Saturday.
Australian Prime Minister Scott Morrison said one of the suspects was an Australian citizen, and Ardern confirmed that one stated they were Australian-born.
"We, New Zealand, we were not a target because we are a safe harbour for those who hate. We were not chosen for this act of violence because we condone racism, because we are an enclave for extremism," Arden said.
"We were chosen for the very fact that we are none of those things. Because we represent diversity, kindness, compassion, a home for those who share our values, refuge for those who need it.
"You may have chosen us, but we utterly reject and condemn you," she told the attackers. "I am not going to let this change New Zealand's profile, none of us should."
Ardern said none of the suspects has been on any watch list for their extremist views.
She also urged people to stop spreading a video that one of the gunmen live-streamed during the attack and posted on social media.
"What all of us can at least do is make sure we do not share, spread, or actively engage in that message of hate," she said.
In a white supremacist manifesto released under the same name as the footage uploader on other social media sites, a person claimed to be a 28-year-old Australian man from a working-class family.
Ardern added that the threat level in New Zealand has been moved from "low" to "high."
Turkish President Recep Tayyip Erdogan and Pakistani Prime Minister Imran Khan were among the first international leaders to condemn the attacks.
Erdogan described them as "the latest example of rising racism and Islamophobia," while Khan blamed "the current Islamophobia post-9/11 where Islam and 1.3 billion Muslims have collectively been blamed for any act of terror by a Muslim."
"This has been done deliberately to also demonize legitimate Muslim political struggles," Khan tweeted.
France's interior minister responded by saying that security at the country's mosques was being stepped up, adding that "surveillance" and "patrols" would be carried out at places of worship.
London Mayor Sadiq Khan made a similar announcement, saying that police in the British capital "are stepping up reassurance patrols around mosques and increasing engagement with communities of all faiths."
After an initial lockdown on schools across the South Island city, police in the early evening said it had been lifted.
"We would like to reassure members of the public that there is a large police presence in the city and the safety of the community is our priority," they said in a statement.
Police said that 48 people were being treated for injuries related to the attacks.
"All appointments have been cancelled this afternoon, and no staff or patients are to enter or leave the building," the hospital said in a statement announcing a lockdown earlier on Friday.
Several hundred people had been at the Deans Avenue mosque for Friday prayers when the attack began, witnesses told local media.
Ahmad Al-Mahmoud told the Stuff news website the shooter was white-skinned, blond, quite short and wearing a helmet and a bulletproof vest.
He reportedly had an automatic gun and emptied at least two magazines.
Bangladeshi cricketer Tamim Iqbal said that the entire national team had been at the mosque.
"Entire team got saved from active shooters!!! Frightening experience and please keep us in your prayers," he tweeted.
Farhaan Farheez was in the Linwood Mosque praying with about 100 others when the shooting started there.
"I didn't know what a gun sounded like. It is customary when we are praying not to pay attention to the outside world …," he told Stuff. "Gunshots kept happening and people kept praying."
"I saw two females and four or five males dead and the rest were severe casualties … The whole mosque was filled with blood and dead bodies. It was like a battlefield," he added.
———
©2019 Deutsche Presse-Agentur GmbH (Hamburg, Germany)
McClatchy-Tribune News Service