Airport security increased nationwide following Fla. shooting
Extra police patrols and officers armed with heavy weapons have been added to major airports in New York and Chicago
---
By Police1 Staff
NEW YORK — In the wake of an airport shooting that left five dead, eight injured and prompted a massive police response, airports across the country are increasing security.
Extra police patrols and officers armed with heavy weapons have been added to major airports in New York, including John F. Kennedy International Airport, LaGuardia Airport and Newark-Liberty International Airport. Officials have also added armored vehicles and K9 units, reported USA Today.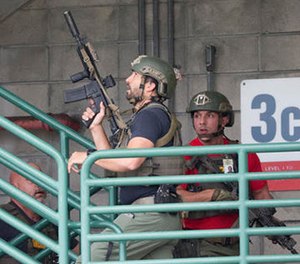 Airports in Chicago have also received an increased police presence. "Travelers can expect to see additional officers walking in airport terminal areas as well as vehicular patrols in the arrival and departure areas," said Anthony Guglielmi, Chicago Police spokesman, said in a statement.
Maryland airports have also seen an increased law enforcement presence; officials said they do not perceive any threats at this time. 
Airports on the east coast and in Florida are also said they are unsure how many  diverted flights to expect from Fort Lauderdale-Hollywood International Airport following Friday morning's incident. 
"Operations are normal ... We are pretty much in a wait-and-see mode in terms of will there be security changes required. Certainly is not out of the question but we haven't heard anything yet,"Todd Scher, the assistant director at the Vero Beach Regional Airport in Florida, said. 
Visible police presence at Bush airport in wake of Fort Lauderdale shooting #ABC13 pic.twitter.com/X4KewoVZyu

— Deborah Wrigley (@wrigleyABC13) January 6, 2017
MDTA police stepping up visible presence @BWI_Airport airport baggage areas and ticket counters. All #FortLauderdale flights canceled pic.twitter.com/Eqexbf8dbY

— Dakarai Turner ABC2 (@Dakarai_Turner) January 6, 2017
Police presence at Tampa international airport in response to Fort Lauderdale airport shooting. | @abcactionnews pic.twitter.com/yaDyKoZ8eL

— Lauren Rozyla-Wong (@LaurenRozyla) January 6, 2017