Man charged with 5 counts of murder in rampage at Chicago condo
The incident stemmed from a dispute between the suspect and his neighbors
---
By Katherine Rosenberg-Douglas
Chicago Tribune
CHICAGO — Chicago police Monday morning announced charges against a man in connection with a shooting rampage that left five people dead Saturday night.
Krysztof Marek, 66, a retired construction worker, had been arrested outside the condominium building in the 6700 block of West Irving Park Road in Dunning Saturday night, according to a police report. Investigators had up to 48 hours from the time they detained him to announce charges and, in a news release issued about 8:15 a.m. Monday, said the Cook County state's attorney's office approved five felony counts of first-degree murder.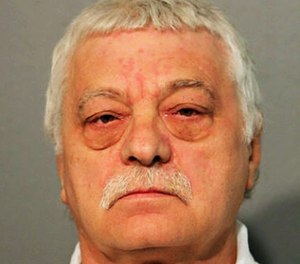 He is expected to appear later Monday in court for a bond hearing, officials said.
Anthony Guglielmi, a spokesman for the police department, in a post on social media said the incident stemmed from a dispute between Marek and his neighbors. A more detailed explanation about the motive wasn't immediately available.
"… What he's being accused of is nothing short of savagery," Guglielmi wrote.
According to the news release, Marek was arrested about five minutes after reports of multiple people shot were reported to authorities.
Killed were: A 61-year-old man identified by his family as David Hanik, of Arlington Heights; Jolanta Topolska, 53, of the same building where the shooting happened; Tsvetanka Kostadinova, who is between 30 and 35 years old, and a 65-year-old woman and a 40- to 45-year-old man who have not yet been identified, according to Natalia Derevyanny of the medical examiner's office.
Autopsies were performed on Sunday, according to Derevyanny, and all are said to have died from at least one gunshot each. All of the death investigations have been classified as homicides.
Authorities said Marek, "was identified as the individual who fired a handgun multiple times striking five victims."
The police report says officers encountered the man outside the building, who approached police with his arms raised. He then directed officers to a handgun on his living room coffee table, the report said. Marek is said to have a valid firearm owner identification card.
The suspected gunman lives in the unit next to where the victims were found, according to the police report. He allegedly shot four people who were having dinner in one unit of the building, then went to another unit and shot Topolska, officials have said.
Neighbors of the condominium building where the shooting occurred said problems with Marek, who had lived at the building for years and previously served as the association president, had been growing. Some neighbors said the man mostly kept to himself. But he had been accused of mismanagement a few years ago when he was in charge of the association.
According to bankruptcy and county records, Marek has had some financial issues.
In September 2017, he filed for bankruptcy and claimed in his petition he owed $24,000 to the IRS and more than $60,000 to creditors. The man's income had decreased in recent years, from about $49,000 in 2015 to just under $12,500 in 2017, according to the petition. Two months after he filed for bankruptcy, the suspect faced a foreclosure notice on his condo, according to county records.
©2019 Chicago Tribune
McClatchy-Tribune News Service