Police experts urge intensive training if teachers are armed
The idea of arming teachers to take out a shooter is alarming some LE experts, who say it takes more than just being a good shot at a firearm range
---
By Lisa Marie Paine
Associated Press
WASHINGTON — The idea of arming teachers to take out a shooter is alarming some law enforcement experts, who say it takes more than just being a good shot at a gun range.
They say it would require specialized and repeated training to teach educators the proper tactics and enable them to conquer their fear and remain calm and clear-thinking in a fast-moving, life-or-death situation.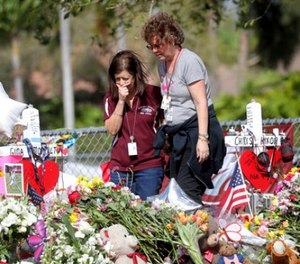 "Simply putting a gun on the premises and hoping someone's going to do the right thing with it is baseless," said Chris Grollnek, a former law enforcement officer who specializes in security issues, especially active shooter situations. "All you're doing is signing people up for PTSD."
The idea of arming teachers isn't new. Some schools around the country already allow educators to bring guns onto school grounds.
But the notion is gaining momentum after the shooting rampage at a high school in Parkland, Florida, last week that left 17 students and adults dead. It turned out the only armed officer on duty at the school stayed outside rather than go in to confront the gunman.
President Donald Trump suggested even paying bonuses to teachers willing to be trained to carry firearms at schools.
Still, law enforcement experts note that police are trained for months in the academy and then are put through drills during their careers on such things as making split-second decisions in a crisis and dealing with the mentally ill.
Experts who have spent careers on SWAT teams or other specialized units say it isn't something that comes naturally. It can take not just training but real-life experience in pressure-cooker situations before the instruction takes hold and they're able to respond effectively.
"What an individual officer or a team of officers will do in an active shooter incident calls on every aspect of their overall training and policing. And that's one of the reasons why you'd be hard-pressed to find someone in policing who thinks it's a good idea to arm teachers," said Rick Myers, executive director of the Major Cities Chiefs Association.
"Teachers' training and expertise has nothing to do with police tactics — shoot-don't-shoot decision making, the psychological trauma that accompanies violence, all the things that are built into what police officers deal with on a daily basis."
Around the country, in places like Ohio and Texas, some schools post warnings that staffers are armed, while others keep potential attackers guessing.
Chris Cerino, a former law enforcement officer, now offers training to educators through his Cerino Consulting and Training Group. The program has taught 1,300 educators over five years. They spend 28 hours learning not just how to fire a gun but such things as ambush tactics, responding under stress, and treating wounds.
Students on occasion have left the class within the first few hours after realizing they're not cut out for it.
Cerino said teachers realize that the usual tactics taught in school — lockdowns and throwing books and other objects at a gunman — are simply "not going to stop a determined killer with a gun. And all that's going to do is delay in the inevitable."
Christopher Albrecht, a fourth-grade teacher from Brockport, New York, and the state's 2018 teacher of the year, said there is already high anxiety in schools with lockdown drills and fears of shooters. He said he is not convinced arming educators is the solution.
"I can't imagine if I had a gun that was visible on me what that would do to anxiety levels. If anything right now, I'm trying to lower anxiety levels in my classroom. I think that would just raise them," he said.
Mo Canady, executive director of the National Association of School Resource Officers, urged every school to first get an armed officer posted before it considers arming teachers. Those officers are highly trained, he said. Also, he said, arming teachers could make it difficult for police rushing to the scene of a shooting to tell who the bad guy is.
"We see one person or six people with weapons drawn in plainclothes — that could go bad in a hurry," Canady said.
The tactics for dealing with active shooters changed after the Columbine High School attack in 1999 in which two students killed 13 people. At the time, it was general practice for law enforcement to wait for a team of officers to assemble before going in to confront a gunman.
Since then, officers have been trained to go in immediately — even if it's a lone officer without backup.
Why the school resource officer stayed outside rather than try to stop the Parkland shooter hasn't been disclosed. But one possible factor, law enforcement experts said, is the limited daily experience those officers have with high-pressure situations.
Is it then unreasonable to expect educators to perform any differently?
"Just being a gun enthusiast doesn't mean you're going to perform well under stress," said John Bostain, a former police officer in Virginia who now travels the country training law enforcement. "You can't just tell people what it's going to feel like. You have to experience it."