Journalists, politicians demand changes to NYPD supervision of city press credentials
The call comes weeks after dozens of incidents involving police tactics against reporters and news photographers
---
By Michael Gartland
New York Daily News
NEW YORK — Journalists and elected officials are pushing back against NYPD control of city press credentials — weeks after dozens of incidents involving violent police tactics against reporters and news photographers.
They gathered Monday just steps from police headquarters to call for stricter protections for journalists in their interactions with police, with one politician demanding the issuance of press credentials be transferred away from the NYPD, which has overseen that function for decades, to City Hall.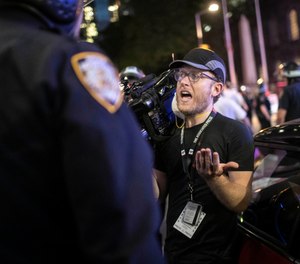 "The relationship we have now with the NYPD is untenable and needs to radically change," said photojournalist Michael Nigro. "If an NYPD press credential means you must stand away from a story and kowtow to questionable edicts from people in power, or you need to play a quid pro quo game with the NYPD in order to report on a story, then that is not a functioning free press."
Nigro, a filmmaker and photographer whose work has appeared in Vice, Time and Rolling Stone, said police have confiscated his gear, stripped him of his press pass, pepper-sprayed and hit him with batons. He urged other journalists to speak out at a public hearing being held by the NYPD on Tuesday morning.
He also called on Mayor de Blasio to enact a law that would protect journalists from being wrongfully arrested, harassed and intimidated by city cops.
Civil rights attorney Norman Siegel said an NYPD hearing officer should no longer have oversight over press credential disputes, calling it a "conflict of interest."
Comptroller Scott Stringer, who's running for mayor, wants City Hall to control the issuance of press credentials so the mayor can be held more accountable. He said Monday that Mayor de Blasio should strip the NYPD of that power.
"They can barely handle what's going on now," he said of the NYPD.
Stringer seemed to acknowledge that tasking City Hall with that duty was an imperfect solution in at least the short term, though.
"I've just had enough of City Hall's purposeful attempt to limit press access," he said. "This is nothing new. This has been a pattern over the last seven years."
©2020 New York Daily News
McClatchy-Tribune News Service