Police turn backs on de Blasio during funeral for fallen cop
Officers turned around during his eulogy as a sign of defiance against the mayor
---
By Police1 Staff
Officers turned their backs in a statement of defiance against Mayor de Blasio as he began his eulogy Saturday for slain officer Rafael Ramos, just weeks after many officers were encouraged to sign a petition stating that they did not want de Blasio to attend their own funeral should they die in the line of duty.  
More than 25,000 police officers from across the country gathered in Queens Saturday to pay their respects to NYPD Officer Ramos just a week after he and his partner were murdered in their patrol car.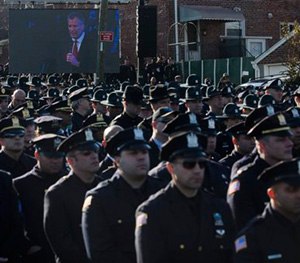 Police union officials have accused the mayor of fostering a climate of mistrust that contributed to the killings of Officer Ramos and his partner, according to Fox News.
"All of this city is grieving and grieving for so many reasons," de Blasio stated in his eulogy. "But the most personal is that we lost such a good man."
Commissioner William Bratton publicly stated that he did not support police officers' actions to turn their backs on de Blasio.
"I certainly don't support that action. That funeral was held to honor Officer Ramos. And to bring politics, to bring issues into that event, I think, was very inappropriate," he said on CBS' "Face the Nation."
Arrangements for the funeral service for Wenjian Liu have not yet been announced. It is unclear if officers plan to show their defiance for de Blasio in the same way during Liu's service.