Roundtable: How to educate officials on the value of the public information officer
As communities ask for greater transparency about those who protect and serve them, the PIO has become critical in addressing those demands
---
By Nancy Perry
On July 24, the Minneapolis City Council voted to remove media duties from the Minneapolis Police Department and reassign to city staff after concerns about misinformation distributed after George Floyd's death. 
The decision was immediately criticized by the Minnesota Chapter of the Society of Professional Journalists concerned the move would reduce media access to information and further erode community trust.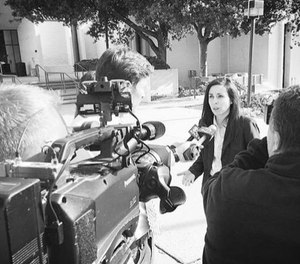 In a statement voicing his disappointment at the vote, Minneapolis Police Chief Medaria Arredondo said: Through our public information office, we have had the opportunity to get to know community members and the media in great depth. This position has afforded the department an avenue for building stronger relationships and better serving the stakeholders throughout Minneapolis. I made my position on this matter clear. Today, the City Council opted to go in a different direction. 
With the advent of social media and 24/7 access to breaking news and critical incidents, police PIOs play a critical role in communicating with the community. In this roundtable, we asked current and former PIOs to share how police leaders can educate elected officials about the value of the PIO officer/PIO unit in law enforcement.
public information officers prevent inaccurate stories
One of the greatest values a public information officer (PIO) or PIO bureau provides a law enforcement agency is what *doesn't* make its way on-air or online. PIOs can prevent inaccurate stories from ever seeing the light of day.
Since police departments are 24/7 operations, newsworthy incidents happen at all hours. When an incident first occurs, it may initially appear to be one thing, when it, in fact, is not. Time on an agency, internal communications protocols and a PIO's experience all help a strong PIO vet the information internally before sharing it externally. Knowing what is factual versus what isn't and what remains to be determined is critical to ensuring accurate messaging with the media and the public.
When a PIO can provide a journalist with guidance that a tip the reporter received or a tweet is inaccurate, that saves time and resources and helps keep the agency's reputation from taking a hit. Conversely, when a false narrative spreads quickly on social media, and traditional media then begins reporting on that misinformation, the agency's brand takes a hit until the correct information is shared.
Each tweet, each view, each live shot on TV with bad information hurts a department. Deadline-driven, detail-focused PIOs can prevent journalists from getting it wrong. Whether a PIO is a sworn law enforcement officer or a civilian, trust must be built with journalists. When that exists, reporters, and in turn, the community can feel comfortable knowing the news they're receiving or "not receiving" from a law enforcement agency is accurate.
— Julie Parker served as director of the media relations bureaus for Fairfax County and Prince George's County Police Departments.
Public information officers are invaluable sources for the media
Now, more than ever is the time for law enforcement leaders to leverage the relationships they have built with local media. Reporters depend on timely, reliable and accurate information from police departments more than anyone else. They serve as the conduits of public safety information to the community at large, and they recognize what a disservice it would be to the public to have that source of information taken away.
As the Minnesota Society of Professional Journalists stated in reaction to the Minneapolis City Council's decision: "At a time when there is a renewed call for police transparency, any action to remove the PIO and undermine the position by placing it under city direction would further erode public trust."
Journalists (and I used to be one) understand the necessity of having public information officers who have in-depth knowledge of law enforcement policies and procedures, open records laws and investigations. They appreciate that those who serve in these roles are available 24/7. They closely monitor law enforcement social media accounts. Journalists will be the best advocates leaders have for educating elected officials about the necessity of the public information function remaining within the police department. Most PIOs I know have spent years cultivating relationships with members of their local media, and now is the time to ask those journalists to share with elected officials how much they value law enforcement public information professionals.
Police leaders also should ask elected officials who are considering eliminating police PIO functions for a detailed plan of how those duties would be provided otherwise. If the answer is through the existing city communications office, elected officials need to consult with the city communications team to determine whether they are willing or able to take up such a task. Based on conversations I've had, I think few city communications teams would be willing to add such tremendous responsibilities to their plates. Nor would they have the knowledge of policing or even access to protected criminal justice records to provide comprehensive and accurate public safety information.
The police PIO function is vital for the increased transparency and accountability expected of modern law enforcement. It should not be a political pawn.  
— Sarah Boyd is a public relations specialist for the Kansas City Missouri Police Department.
public information officers foster increased transparency
As communities increasingly ask for greater transparency and understanding about those who protect and serve them, the role of the PIO has become critical in addressing those questions, engaging with residents, and ensuring that those who call their cities home (and now in the digital age, those who follow them online), stay informed about the safety and well-being of those around them.
The PIO is a complex position that requires the ability to be prepared or to adapt at a moment's notice. It is one that requires the individual or team staffing it to operate in a non-stop capacity, and it is a position that begins to make those crucial connections between the public and the police.
To put it simply, public information officers are the vital link that bridges the gap between questions and answers.
Eliminating the role that, in the 21st-century landscape of policing directly addresses the calls from the community rightfully demanding the timely release of information, completely negates the whole premise behind why these positions were created in the first place.
It suggests that communities' voices and concerns may not be as valuable as they were previously stated to be. If moved to places where politics can play a factor in how and when information is put forth, it suggests that only certain people can determine that only certain information at certain times should or can be released. It suggests that transparency may not actually be as appreciated.
This role alone is required on a daily basis to answer every message, every call and every inquiry from members of the community, the media and more. PIOs are required to not just be educators and informers, they must be champions for community connection.
This is why these roles matter. This is why they should continue to be fostered. This is why eliminating the PIO position won't just lead to trust and transparency complications in the immediate future, it will lead to long-term issues within communities for the foreseeable future.
— Katie Nelson is the social media and public relations coordinator for the Mountain View Police Department in northern California.
public information officers go beyond just positive "Pr"
The decision in Minnesota reflects an unfortunate lack of understanding of the role of public information in policing. While some departments may have legitimate issues within their public information units, why throw the baby out with the bathwater? Elected officials are looking for simple solutions, and police officers as well as communities will pay the price. But by creating another filter between police and the people they swore to serve, we are essentially contributing to a divide that has been exaggerated by extreme voices on social media to begin with.
The PIO office goes well beyond generating positive "PR" for police or fielding questions from the press. In today's digital age, the work of the PIO is essential in informing communities about events in real-time, engaging with them around community needs and dispensing critical public safety information. As more human interactions happen on social media, it seems completely counter-intuitive to deny police the voice that they use to strengthen relationships and build trust. Isn't that the type of proactive community building we want to encourage?
By removing the ability to proactively engage through a PIO, we are denying police officers the chance to show the human side of their profession, and denying the public the knowledge that these officers are committed, trustworthy individuals whom they can call on for help.
Additionally, denying the police a voice on social media reflects a laughable lack of understanding of the medium. There are already dozens of "unofficial" police accounts on social media, and there will be hundreds more, each claiming to reflect the real voice of the department. Without the official presence, there will be more room for extreme accounts on all sides to engage with each other and further distort the reality of the profession.  
Social media specifically was created as a platform to remove filters so that users can connect directly with one another, in an authentic and personal way. Unfortunately, it seems like there are ill-guided decision-makers who want everyone but those who swore to protect and serve them to have that opportunity. 
— Yael Bar-tur is a social media consultant who previously served as the director of social media and digital strategy for the New York City Police Department.
public information officers BRIDGE COMMUNICATION GAPS
With the future of policing ever-evolving, it's important to remember to nurture and fundamentally grow positive relationships that already exist. The media office is a prime example of this in departments across our nation. Community members and media partners rely on PIOs to share information in a timely, transparent manner and bridge communication gaps. Removing this bridge could be detrimental to the continued efforts of healing across our country.

During this pivotal moment in policing, transparency has never been more critical. One of the primary roles of police PIOs is to maintain clear, concise and timely messaging to their communities, often through media partners. They are available at all hours of the day as the immediate point of access between the communities we serve and the law enforcement agency. By removing this position, you slow the release of information and increase the potential for misinformation to spread.

PIOs work to forge police-community relationships in ways outside of information dissemination. Tremendous amounts of effort to be more than "just a spokesperson" go into the job function daily. They work to build community trust through sharing humanizing stories on social media, proactive public education opportunities and connecting the right people with the right information.
PIOs work to open the lines of communication, engaging the communities they serve, and making themselves available. When you close the two-way communication track they have worked so hard to build, you take a piece of your community trust with it.
PIOs are also listeners, ensuring that messaging and concerns are delivered back to departments and administrative leaders. At a time when transparency, accuracy and timeliness matter, we must hold onto the media office and public information officers.

— Carissa Katekaru serves as the social media coordinator and PIO for both the police and fire departments in North Richland Hills, Texas.