All dressed up with only a painful place to go
A police funeral is one place where officers come together as one, regardless of the color of our uniform, our state or country of origin
---
Reprinted with permission from Cop Blue
By Sgt. Tim McGuckin, Police1 Contributor
Your day starts as many do, you go through your normal routines just as you would most days when you are preparing for duty. Your uniform is pressed; collar brass and commendation bars are shined. Today you aren't going on patrol, though. You are preparing for a funeral – a police funeral.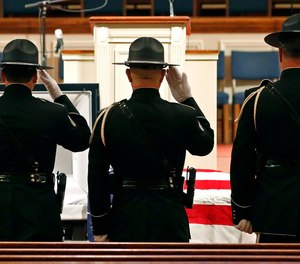 You are heading out to honor a fallen officer whom you may not even know or have ever heard of. You are taking the time to honor someone who sacrificed everything to uphold the oath they took. You will show the officer's family they are not alone in this loss. It is shared by all of us and their loved one's sacrifice means something that is very important.
PROFOUND PAIN
When we arrive at a service we see dozens, and sometimes hundreds, of different law enforcement agencies assembled for the memorial. We all come together as one, regardless of the color of our uniform, our state or country of origin or the type of agency.
We introduce ourselves to new friends and have conversations as if we have known each other for years. It's a unique bond few professions experience.
We laugh with one another before the service begins, but when called to attention we all remember why we are there: to honor an officer who gave all and made the ultimate sacrifice.
MENTALLY, PHYSICALLY AND EMOTIONALLY BOUND TOGETHER
Weather doesn't always cooperate with services, either. We will stand in the pouring rain, bitter cold or sweltering heat. Regardless of the conditions, we all stand firm for the same purpose: to honor the fallen.
As we stand shoulder to shoulder with our friends, family and colleagues, we see them experiencing a wide range of emotions. These emotions are contagious, and we find ourselves, unknowingly or uncontrollably, experiencing them too.
We sometimes do this for someone we have never met. We watch and listen as family and friends tell stories about their loved one and reflect on a hero's life. You can't help but empathize with them as they share their memories.
When the service ends, we return to formation and then proceed to our vehicles as we begin the drive to the officer's final resting place. On the way there, all the police cars have their emergency lights activated. We drive through towns and villages seeing scores of people lining the route. They show their respect by holding signs, banners and waving flags. Some of them salute the procession as it drives by and you can see the appreciation, admiration and sadness on their faces.
HEART-WRENCHING GRAVESIDE SERVICE
When we arrive at the cemetery, we get in formation and stand at attention. We salute the officer's casket as bagpipes play, salutes rise, tears fall, and the officer's final radio call is played. This is the last time they will be called upon by radio.
It is an emotional time as well as everyone in attendance knows it could have been them.
After the funeral, we sometimes gather and continue to share stories of our fallen hero. We laugh at the funny and strange things they have experienced, and we cry at the realization that they will never again be physically by our side at the next roll call. We honor their service to others, their dedication to the oath they swore, their self-sacrifice and the memories they leave behind.
TIME-TESTED QUESTIONS
One of the questions I get from non-law enforcement friends is, "Why do you go to funerals for people you don't know?" It's simple: to honor a brother or sister who gave everything to a cause greater than themselves.
Over the course of my career I have had the honor and privilege of attending the funerals of far too many fallen police officers. I've traveled out of state on several occasions. I've been alongside masses of officers who had traveled, as well. We are all there to honor someone they likely have never met.
These men and women gathered to honor a brother or sister and to represent the strength and solidarity of the thin blue line.
---
About the author
Sgt. Tim McGuckin is a 14-year veteran of the Lapeer County Sheriff's Office in Lapeer, Michigan. Assigned to the corrections division, he is a member of the department's Special Response Team, as well as a search and recovery diver. He is also a police and corrections academy instructor covering multiple topics for several local academies and colleges. He has recently been named the contributing editor for CopBlue.