'One man army' cop back on feet after brush with death in Bronx
NYPD Officer Nelson Vergara was off duty when he took two bullets and still managed to nab the suspect
---
By Lorena Mongelli , Erin Calabrese and Bob Fredericks
The New York Post
NEW YORK — The NYPD cop who took two bullets in a wild shootout with a Bronx thug was back on his feet yesterday, just a day after he was released from the hospital.
"Just trying to get some rest," a smiling Nelson Vergara told The Post as he returned to his Morris Heights apartment yesterday evening, after discussing his impending grand-jury testimony with Bronx prosecutors.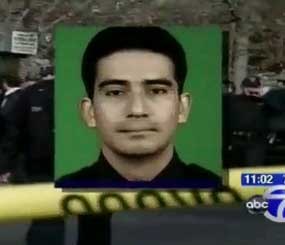 Vergara, 36, walked with a cane and wore a protective boot on his right leg as he went to and from his home, but he still had his NYPD shield clipped to his belt.
"He's doing much better. He's back at home and he's with his daughters," said John Lopez, 40, Vergara's NYPD detective brother. "I think that's the most important thing to him right now, that he's spending time with his family."
The former Marine sergeant, who served two tours of duty in Iraq, was shot once in the right shin and once in the left shoulder at about 4:45 a.m. Sunday.
The married father of 4- and 8-year-old girls was off duty but trying to bust up a rowdy gang of drunken goons, including one who threw a beer bottle at him.
As he approached the partiers, a green Honda rolled up, and a man later identified as Joseph Baez, 21, jumped out and started firing at the bottle-tosser.
Vergara identified himself as a cop, and the gunman opened fire on him.
Despite his wounds, he managed to shoot the gunman and cuff the bottle hurler, who was also wounded by Baez, cops said.
Baez, who remains under guard at Bronx Lebanon Hospital, was charged with attempted murder, assault and criminal possession of a weapon.
The 17-year-old bottle thrower — whose family credits Vergara with saving his life — was not charged.

Copyright 2012 N.Y.P. Holdings, Inc.