Product Review: 5.11 Tactical COVRT M4 rifle bag
The COVRT M4 takes the covert rifle bag to a new level and does a good job of looking more like a sports bag rather than a rifle bag
---
How many times has this happened to you? You're loaded up and headed out for a day on the shooting range. You've got your gear packed up and ready to go. You've got your AR-15, your optics, your ammo, and your magazines secured in your black tactical nylon rifle bag. Your bag is festooned with police patches, unit crests, your name and blood type and your favorite morale patches. You grab your car keys and head out the front door only to find your nosy neighbor outside watering his lawn. You duck back into the house, hoping to remain unseen rather than face your neighbor and endure the endless questions about what kind of rifle you've got in the fancy black rifle bag...
While the above scenario is a bit far-fetched, there are times when it is best to go unnoticed, especially when transporting a long gun and accompanying gear. I live in a rather nice neighbor but am always trying to be mindful of who is watching as I come and go. If I'm carrying a firearm or anything shooting related I'm extra cautious, not wishing to advertise what I might have in my house.
Along these lines, I've been to several carbine courses that required travel away from home and a night or two in a hotel. Not wishing to leave any firearms or related equipment in an unattended vehicle, I'm always a little uncomfortable carrying tactical rifle bags through the hotel lobby while coming and going.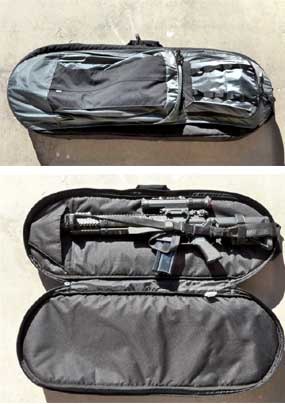 Not Very Discreet
Many companies currently make "discreet" rifle bags that do a fairly decent job of protecting expensive gear while looking inconspicuous. But these bags have become more and more common and have now become a rather-recognized standard.
In short, these bags look like discreet rifle bags, thus defeating the purpose of the whole "discreet" concept.
Enter 5.11 Tactical
To solve this problem the folks over at 5.11 Tactical recently released their new COVRT M4 rifle bag. The COVRT M4 is a rifle bag at heart but takes the discreet concept to the next level. Currently only available in gray with black trim or gray with blue trim, the new COVRT M4 bag features a large rifle compartment that's sized to fit most M4-type firearms. At the bottom of this rifle compartment is a heavy duty pocket that secures the muzzle and protects the zipper and seams from getting torn by the flash hider.
At the top of the rifle compartment is a removable Velcro strap for securing the rifle's stock so that it doesn't flop around while in transport. The rifle compartment is wide enough to secure a carbine equipped with a small scope or red-dot optic and a 30-round
magazine. On the outside of the bag, there is a large secondary storage compartment that's nearly two feet long. It is suitable for hearing protection, cleaning equipment or even a light jacket. At the top of the bag is another small compartment that's sized for carrying a couple of 30-roudn magazines and a couple boxes of ammo.
The COVRT uses one large cross body strap but also has two carrying handles for ease of transport. The bag is constructed of heavy duty nylon and YKK zippers for durability. The large main compartment is padded to help protect the rifle from bumps and dings along the way.
As already mentioned, the COVRT M4 takes the covert rifle bag to a new level and does a good job of looking more like a sports bag rather than a rifle bag. Now you can pack for the range and step out of the house without drawing undue attention.
Well, maybe not. You'll still have to face your nosy neighbor while he asks, "Hey! What's in the nifty satchel?"