Detroit police officer dies from injuries after Aug. 4 hit-and-run
Officer Fadi Shukur was struck by a car while walking to his cruiser after responding to a crowd control call
Duty Death: Fadi Shukur - [Detroit, Michigan]
End of Service: 08/14/2018
---
Marc Daalder
Detroit Free Press
The Detroit Police Department said on Wednesday that officer Fadi Shukur, who was severely injured in a hit-and-run incident on August 4, has died overnight.
Shukur, 30, had been with the department for a year and a half.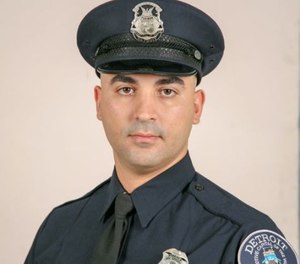 "We stand here before you with a heavy heart," Chief James Craig said. "We want to keep his family in our thoughts and prayers. This is an especially difficult for them."
Shukur was struck by a car while walking to his cruiser after responding to a crowd control call. The driver of the SUV that hit him, which was estimated to be travelling at 60 or 70 miles an hour, was 19-year-old Jonathan David Cole of Belleville.
Cole turned himself in to police on Aug. 4 and has been charged with second degree murder, reckless driving causing death, and failure to stop at the scene of an accident when at fault resulting in death.
Craig said that new charges have been filed following Shukur's death, including a murder charge.
Shukur's fellow officers in the 8th Precinct have been given counseling resources, Craig said. "Fadi will always be remembered for his magnetic smile. He could light a room up," the chief said. "Certainly in his short time he made a difference."
With the death of Shukur, the total number of Detroit officers killed while on active duty this year is now three. Craig said Wednesday was "another dark day" for the department.
A new ordinance passed by City Council this year provides up to $12,000 for funeral expenses for officers killed in the line of duty.
———
©2018 the Detroit Free Press
McClatchy-Tribune News Service