Fla. deputy fatally shot during burglary call
A central Fla. sheriff's deputy was fatally shot while responding to a car burglary call near Orlando
Duty Death: Jonathan Pine - [Orange County, Florida]
End of Service: 02/10/2014
---
Associated Press
ORLANDO, Fla. — A central Florida sheriff's deputy was fatally shot while responding to a car burglary call near Orlando, authorities said Tuesday.
Officials with the Orange County sheriff's office said 34-year-old Jonathan Scott Pine saw a suspect sitting in a car with a woman late Monday. The suspect started to run and the deputy pursued him. That's when the man fired at the deputy, hitting him.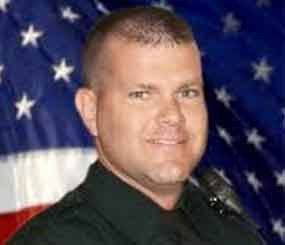 Authorities said the suspect, identified as Benjamin Holtermann, 28, kept running and was found dead in a nearby neighborhood. Authorities said it doesn't appear the deputy fired at him, so they are trying to determine whether the suspect shot himself.
Capt. Angelo Nieves said the fire department "made valiant efforts to save our deputy." But he was pronounced dead at Orlando Regional Medical Center.
Pine was married and had three small children, Sheriff Jerry L. Demings said in a statement. Pine had been with the sheriff's office since 2011.
Erica Pugh, 18, who was with Holtermann during the initial burglary call, was apprehended in the area. Authorities said she was interviewed by detectives and confessed to a recent armed robbery in the Orlando area.
Pugh is being charged with multiple counts of burglary and grand theft, the sheriff's office said.
"The citizens of Orange County lost a true hero who was tragically killed patrolling the streets of our community," the sheriff said.
Demings was out of town on business when the shooting occurred and was returning Tuesday.
Copyright 2014 The Associated Press