Ga. cop dies days after being shot; suspect still on the run
Officer Paramhans Desai, 38, leaves behind his wife and two children
Duty Death: Paramhans Desai - [Henry County, Georgia]
End of Service: 11/08/2021
---
By Sarah Calams
HENRY COUNTY, Ga. — An officer who was shot while attempting to make an arrest last week died Monday night. 
The Atlanta Journal-Constitution reported that Henry County Police Officer Paramhans Desai, 38, was shot while investigating a domestic dispute. Desai was listed in critical condition Monday, but died later that night with his family by his side. He leaves behind his wife and two children.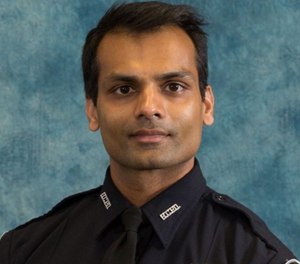 "Officer Desai continues to serve, even in his passing, by donating multiple organs which will save numerous lives," the department said. "Please continue to keep Officer Desai's family in your thoughts and prayers through this terrible tragedy."
Desai was the second Georgia officer to die Monday. Jackson County Deputy Lena Marshall, who was shot while responding to a domestic disturbance, died three days after being critically injured in a shootout.
The suspect accused of shooting Desai was identified as Jordan Jackson, 22, who fled the scene and is still on the run. "I assure you, we're coming to find you," Henry County Sheriff Reginald Scandrett said.
There is a $30,000 reward for information leading to Jackson's capture. Most recently, NBA legend Shaquille O'Neal contributed $5,000 to the reward fund. Jackson is described as 5-foot-8-inches tall and 165 pounds. His 2016 Honda Civic has a Georgia license plate RXF0384.