'Grateful for his service': Officers, politicians show support for Ky. deputy killed during traffic stop
Deputy Caleb Conley served with the Scott County Sheriff's Office for four years and served with the U.S. Army for eight years. He left behind a wife and small children
Duty Death: Caleb Conley - [Georgetown, Kentucky]
End of Service: 05/22/2023
---
By Christopher Leach
Lexington Herald-Leader
The news of Scott County Sheriff's Deputy Caleb Conley's death Monday reached all corners of Kentucky, as dozens of political figures and law enforcement agencies offered condolences for Conley's friends and family.
Conley was shot on I-75 near the 127-mile marker around 5 p.m. Monday while trying to stop a suspect from fleeing, Scott County Sheriff Tony Hampton told reporters Monday. The incident happened during a traffic stop, and officials say the suspect in Conley's death is in custody. More information hasn't yet been released.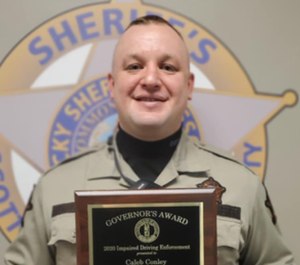 Conley served with the Scott County Sheriff's Office for four years and served with the U.S. Army for eight years. He left behind a wife, small children and his parents, Hampton said.
Democratic Gov. Andy Beshear said in a Facebook post he was praying the Conley's family and the sheriff's office.
"This hero made the ultimate sacrifice, and we will be forever grateful," Beshear said in the Facebook post.
Attorney General Daniel Cameron, who is the GOP nominee for governor, also sent out a Facebook post about Conley's death, saying Conley was a hero.
"Makenze and I mourn the loss of this hero," Cameron said in the Facebook post. "Today's tragedy is yet another example of the grave dangers faced by our law officers."
Senate Minority Leader Mitch McConnell (R-KY) said the state mourns the death of Conley, who he called a brave officer. Sen. Rand Paul (R-KY) also sent out a statement, and said he is praying for Conley's family and friends.
"Elaine and I send our deepest sympathies to the Conley family, their loved ones, and his fellow law enforcement officers," McConnell said in a Facebook post.
The Scott County Sheriff's Office said it will be closed Tuesday and thanked the community for its support.
"We are deeply saddened to announce we lost a beloved member of our office today, Deputy Caleb Conley," the sheriff's office said in a Facebook post. "We are receiving a much appreciated, overwhelming outreach of support from our community and across this state."
Many local law enforcement agencies offered their support and condolences for the Scott County Sheriff's Office, including the Lexington Police Department, Madison County Sheriff's Office, Jessamine County Sheriff's Office, Franklin County Sheriff's Office, Winchester Police Department, Versailles Police Department, Paris Police Department, Boyle County Sheriff's Office, the Bureau of Alcohol, Tobacco, Firearms and Explosives, the FBI and many more.
"Days like today are difficult to put into words, and we are deeply saddened to learn of his passing," Lexington police said in a Facebook post.
—
©2023 Lexington Herald-Leader.
Visit kentucky.com.
Distributed by Tribune Content Agency, LLC.
McClatchy-Tribune News Service