Ill. cop suffers fatal medical emergency on duty
Officer Adam Zieminski was described as a "highly decorated officer who proudly served (the) community for 22 years"
Duty Death: Adam Zieminski - [Calumet City, Illinois]
End of Service: 12/07/2020
---
Katherine Rosenberg-Douglas
Chicago Tribune
CALUMET CITY, Ill. — A 22-year veteran of the Calumet City police department died on duty early Monday, after apparently suffering a medical emergency, city officials said.
Officer Adam Zieminski had been transporting a detainee to the Cook County courthouse in Markham when he suffered an unspecified medical emergency, according to a joint statement from Calumet City's mayor and police chief. When it was clear Zieminski was suffering some type of medical issue, the detainee was able to get the attention of other nearby law enforcement officers. They raced to the officer but weren't able to revive him.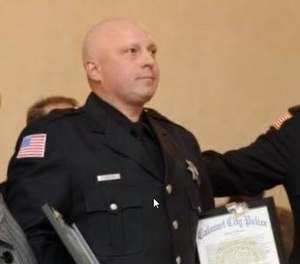 Zieminski, 49, was taken to Advocate South Suburban Hospital in Hazel Crest and pronounced dead at 12:48 a.m., according to the Cook County medical examiner's office, which had scheduled an autopsy for Monday to determine his cause of death.
"Calumet City Mayor Michelle Markiewicz Qualkinbush and Police Chief Christopher Fletcher, together with the city administration and the entire Calumet City Police Department, are deeply saddened that Police Officer Adam Zieminski died while on duty early this morning," the statement read.
It also said Zieminski was a "highly decorated officer who proudly served (the) community for 22 years."
The officials extended their sympathy and condolences to Zieminski's family, friends and colleagues.
"We were all fortunate to have had him in our lives," the news release said.
(c)2020 the Chicago Tribune
McClatchy-Tribune News Service