Ind. trooper hit, killed by stolen vehicle during pursuit
Trooper Aaron Smith tried to deploy stop sticks to terminate the pursuit when he was struck by the suspect's vehicle
Duty Death: Aaron Smith - [Indianapolis, Indiana]
End of Service: 06/28/2023
---
By Sarah Roebuck
Police1
INDIANAPOLIS — A trooper with the Indiana State Police was killed in the line of duty after he was hit by a suspect's vehicle during a pursuit of a stolen vehicle, FOX 59 reports. 
The incident happened around 8:30 p.m. Wednesday on Interstate 70. ISP Master Trooper Nick Klingkammer told FOX 59 that the incident started as a pursuit when troopers spotted a stolen vehicle.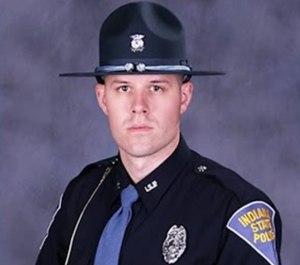 Troopers attempted to initiate a traffic stop, but the suspect drove off. A trooper tried to deploy stop sticks to stop the vehicle and terminate the pursuit. The vehicle struck the trooper and threw him into the air. The suspect's vehicle then crashed.
The injured trooper was taken to the hospital in critical condition. Around 11 p.m., he was pronounced dead. ISP identified the trooper as Aaron Smith. Smith joined the department in 2018 and is survived by his wife. 
"He was one of those guys that stood out," ISP Superintendent Doug Carter told FOX 59. "Not to be cliche, but he was a shining star for the Indiana State Police."
The suspect driver and a passenger, an adult and a juvenile, were taken to hospitals.