Ky. deputy dies from heart attack
Chief Deputy Bobby Wayne Jacobs collapsed a day after assisting at the scene of a barricaded subject
Duty Death: Bobby Jacobs - [Knott County, Kentucky]
End of Service: 12/16/2019
---
Police1 Staff 
KNOTT COUNTY, Ky. — A Knott County sheriff's deputy died after suffering a fatal heart attack Monday. 
Chief Deputy Bobby Jacobs collapsed from a heart attack the day after he assisted at the scene of a barricaded subject who had threatened to kill law enforcement officers, according to ODMP. Jacobs, 47, had served in law enforcement for 23 years, the bulk of them spent with the Knott County Sheriff's Department, WYMT reports.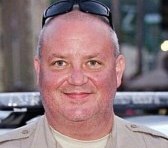 "I can remember when he first started, didn't really think he was old enough to be a deputy he was so young," said Knott County Sheriff Dale Richardson. "If we got a call here in the county that you know, had the possibility to be bad, Bobby was the first man to volunteer to go, I'll never forget that about him." 
Richardson told WYMT Jacobs was a man who could always calm and diffuse a tense situation. 
"We a lot of times deal with a lot of bad situations, tense, and he usually was the one that kinda, I guess, bring us back to reality," Richardson told WYMT. "I mean he was very well thought of here, he has made an impact on a lot of people. A lot of friends and he's just... will be hard to replace." 
Jacobs is survived by his three daughters.